Mustang Restoration Part 2
The Mustang restoration continues to make progress.
Although, I've been fortunate to have a fairly rust free passenger side, there have turned out to be some areas of the rear quarter panel, parts of the door and the front fender that wouldn't look too "classic" if left alone. That's why you see the epoxy primer on the passenger side of the car.


Easy Resurfacing of Minor Irregularities
Use an Epoxy Primer Surfacer:
The purpose of this primer surfacer is to:
- fill small imperfections that are too small for putty
- seal the bare metal in preparation for body putty where necessary
- provide a means to find low spots that were not obvious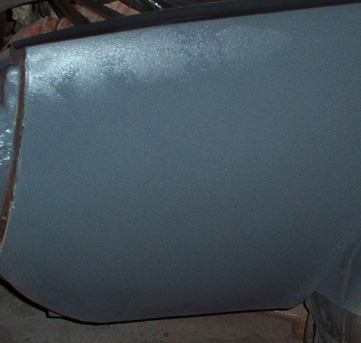 You'll notice from the picture above, several odd looking marks through the primer on the quarter panel. This is where I found and filled several small low spots, which could have shown up in the final paint as waves.
To make a good smooth restoration of the surface on that panel, it can be difficult to block sand the filler to blend in with bare metal. This is because the hardness of the metal,compared to the softness of the putty,can cause uneven transitions.
Covering them both with a fairly hard surface with enough thickness to sand evenly does the trick. And epoxy surfacer is a great rust preventative.
Materials and Tools Needed For the Mustang's Body Work
As topics of the restoration are covered, you'll see links to the various tools and materials used. Here's a few we just used. Click on the links for more detailed information including material and parts descriptions and what various types of tools are used for.
1. general purpose auto body filler
2. lightweight Auto body filler
3. Spreading tools and spatulas
4. Sandpaper grades
5. Sanding tools
Part 3 Rear Quarter Panel Repairs
In Part 3 we'll look at rear quarter panel repairs on the 1965 Mustang restoration in more detail .


Restoration Sections
Part 1 - Mustang Restoration

Part 2 -Resurfacing Minor Irregularities

Part 3 - Rear quarter panel repairs

Part 4 - Inner Fender Refinishing and Repair

Part 5 - Mustang floor pan replacement

Part 6 - Floor Pan Replacement Continued

Part 7 - Headliner Replacement

Part 7A - Mustang Headliner replacement part 2

Part 8 - Mustang Dash Restoration

Part 9 - Trunk rust repair

Part 10 - Priming and Painting your Mustang Part-1

Part 11 - Gas Tank Restoration

Part 12 - Color Sanding

Part 13 - Mustang gas tank Installation

Part 14 - Mustang gas tank Restoration

Part 15 - Valve Cover Restoration



Return to Ford Mustang home


Your Mustang Restoration Project
Whether it's finished or just started - we'd like to see and hear about it.
Links to Other's Restoration Projects
Click below to see contributions from other visitors to this page...

1965 Fastback Suspension Updating Not rated yet
Question: I live in Vancouver b.c. and own a 65 Mustang Fastback. I have it gutted and am in the process of rust repair. I would like to put in …


Still looking? Use the search box to find more information.