2012 Mustang Diecast Cars
The best selection of 2012 Mustang diecast cars Anywhere!
Whether your favorite Ford Mustang is a coupe, convertible, fastback or sportsroof, if it's available, you'll find it here. We're constantly searching out the best for you, whether you're a collector looking for a special model to round out your collection, or getting that little pony car enthusiast their first diecast car check the selection below.

And if you're looking for model years other than the 2012 cars, check out the listings for the other section. If there's a classic or new Mustang that's made, chances are, we'll have it here.
And we're constantly adding new models and colors as they become available. See something interesting? Click on the links for more details.
2012 Shelby GT350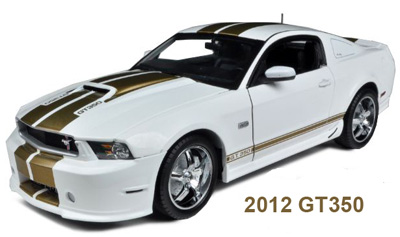 2012 Mustang Diecast GT350
check out this awesome
2012 Shelby Mustang GT350,
it's a special 50th Anniversary Edition and very exclusive, with only 250 Produced Worldwide and includes a certificate of authenticity.
Get your little piece of history and an amazing 2012 Diecast Shelby all at the same time.
GT500 2012 SUPER SNAKE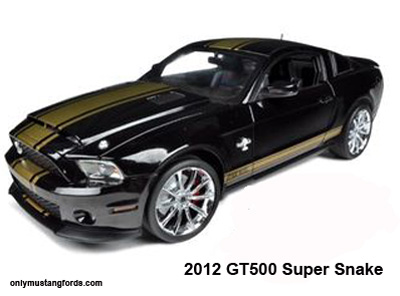 One of the fastest Mustangs around. Especially in the quarter mile. This cool
2012 Mustang diecast GT500 Super Snake
is painted jet black with gold stripes.
Like the GT350, it's a limited edition 1/64 scale car, with a total of only. Check out the detailed interior in the 2012 GT500 Supersnake model below.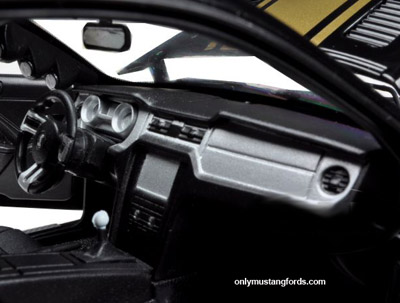 2012 Boss 302

You might miss this, if you don't follow the reproduction car market, but many of the early model year introductions, such as the new Boss 302 are listed by the manufacturer as the previous model year.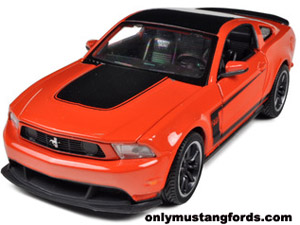 That's the case for this beautiful
2012 Mustang Boss 302
in Competition Orange. Your friends may still be looking for one, but you can have yours now! Listed as a 2011 Boss 302, enthusiasts will know this rocket is actually the 2012 Boss Stang!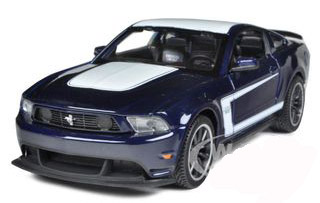 Blue is better, when you hit the road with your
2012 Ford Mustang Boss 302
. And what a great price to start your 2012 Mustang diecast cars collection!
Die Cast Car Sections

Here's the most up to date list for our diecast cars sections:
1964 1/2 to 1967
1964 1/2 to 1967 Mustang diecast car
1968 - 1969 - 1970
1968 - 1969 - 1970 die cast Mustang
1971 -1972 - 1973
1971 -1972 - 1973 diecast cars
1982 to 1992
1982-1992 diecast Mustangs
1993 to 2001
1993 to 2001 Mustang models
2002 - 2004
2002 - 2004 diecast Mustang cars
2005- 2007
2005- 2007 New Mustang diecast vehicles
2008 -2009 - 2010
2008 -2009 - 2010 cars
2011 Mustang Diecast And 2012 Boss 302
2011 die-cast ford Mustang
Boss 302 Diecast Cars
1969 Mustang Boss 302 diecast
1970 Mustang Boss 302 diecast
Return from 2012 Mustang diecast cars to Ford Mustang