2015 Mustang Diecast Cars
The 2015 model year has become one of the flagship models for collectors. With it's ever more powerful Coyote 5.0 liter V8 and a host of improvements, the 2015 diecast Mustang is the perfect addition.
The new car brought a host of improvements when it hit the car show circuit. It also hailed the return of the famous "fastback". 
With it's slick aerodynamic styling and wider track, the new pony car set a new, high standard.
Limited Edition Diecast Cars
2015 Mustang GT Fastback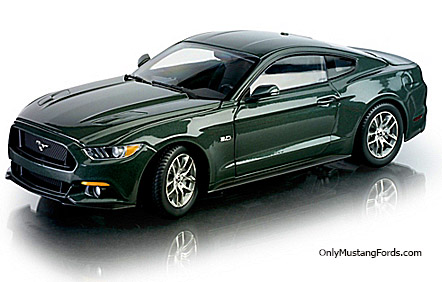 Check out this beautiful dark green
2015 Mustang GT
. Ford is still blazing a trail and this highly detailed 1:18 scale GT captures the glory of what many call, the most popular American muscle car in history.
This car is fully loaded with authentic detail. Famous 5.0 liter "Coyote" V-8 engine is recreated in exacting detail. This special offering is available in a strict limited edition of only 1,002.
2015 Model Highlights
Unlike the infamous Mustang ll, which was based on the venerable Ford Pinto, the new chassis was a clean sheet of paper, with an all-new independent rear suspension. This one addition catapulted the car's handling performance deep into exotic car territory, rivaling sports cars with considerably higher price tags.
And with nothing less than 300 horsepower and 300 lbs of torque in any engine option, this Mustang finally ended the criticism that any v6 or 4 cylinder dropped into the engine compartment was an insult that turned the iconic car into a dressed up grocery getter.
Find Your Favorite Model Years
We're updating the list of cars in all price ranges all the time. Here's the most up to date list for our car sections:
1964 1/2 to 1967
1964 1/2 to 1967 Mustang diecast car
1968 - 1969 - 1970
1968 - 1969 - 1970 die cast Mustang
1971 -1972 - 1973
1971 -1972 - 1973 diecast cars
1982 to 1992
1982-1992 diecast Mustangs
1993 to 2001
1993 to 2001 Mustang models
2002 - 2004
2002 - 2004 diecast Mustang cars
2005- 2007
2005- 2007 New Mustang diecast vehicles
2008 -2009 - 2010
2008 -2009 - 2010 cars
2011 Mustang Diecast And 2012 Boss 302
2011 die-cast ford Mustang
Boss 302 Diecast Cars
1969 Mustang Boss 302 diecast
1970 Mustang Boss 302 diecast
Return from 2015 diecast Mustang collectibles to Ford Mustang