Classic Car Insurance Guide
Classic car insurance probably wasn't the first thing you thought about when you decided to find the perfect car. But to enjoy peace of mind on the road, picking the right car insurance is very important.


Getting the cheapest classic car insurance, may or may not mean the best insurance for you. So when you find the right combination of coverage and a cheap insurance quote then you've really hit the sweet spot!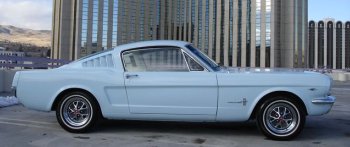 If you want to buy Cheap car insurance, saving money is all about making good choices. Here's some tips for finding the policy you need with the best coverage.


Agreed Value for Classic Cars
Not all classic vehicles of the same manufacturer and age have the same value. Take for instance, a 1965 Ford Mustang.
The overall condition of your car makes a big difference in the value. A plain Jane Mustang coupe, while highly prized, is worth anywhere from a couple of thousand dollars to over 30,000 dollars or more.
If your car is running, but still in the process of being restored, get the cheapest insurance policy you can find, based on an agreed value now, and when its completed, get an appraisal, from a company acceptable to your insurer and base your mustang insurance on that value.
Classic and Vintage auto policies
Another way to get the car insurance for the best price, is looking for classic or antique car coverage rather than a normal policy.
Your location may change the name of the policy, but if you drive your 25 year or older vehicle only occasionally, many insurance companies offer you extremely cheap insurance coverage based on driving a certain maximum mileage per year.
If you're car is a Sunday driver, this might just be the cheapest insurance you'll ever find!
Parade Car insurance
Usually this kind of policy is only thought of for really old antiques, but if your car is a "trailer queen" that maybe once a year gets driven in a parade, then combine parade car insurance, with storage insurance and you have very inexpensive coverage.
Classic Car Insurance Quote
A few more pointers before you get yourself a quote. Whether you own a Mustang, Camaro, Challenger or other pony car, deciding on the highest deductible you are able to pay, will make a big difference on getting low premiums. The higher the deductible, the lower the premium. Unless your car is a classic in name only, I don't recommend having no collision coverage.
Here's a few more tips:
Join a car club. Members of car clubs sometimes can get lower premiums.
Install a security device and car alarm. Classics with immobilizer type units usually see cheaper insurance rates.
Store your vehicle in a secure area or locked garage.
Buy car insurance online
Absolutely. Using these tips, you'll be able to find the best and cheapest insurance price.
Check classic car insurance quotes online first. The nice thing about getting a quote online is that you can shop for the lowest rates and compare insurance premiums very quickly.
Wnen I first looked into getting a policy online, I was surprised how easy it was. Even if you need an agreed value, the companies that specialize in classic car insurance make it easy to get a quote and make your perfect policy.
I buy my classic car and regular vehicle insurance online and I can tell you, it's very quick and straight forward.
Need coverage for your newer Ford Mustang ?
See the section on Mustang Insurance.


Return to classic Mustang

Return from Classic Car Insurance to Ford Mustang home.