Mustang Diecast Model 1971-81
Here's the place to find your favorite Mustang Diecast Model of 1971-81 vintage.
The early 1971 1972 and 1973 cars were featured in a number of movies, including Gone in 60 seconds, and Diamonds are forever (James Bond). The later years, including the new fox body Mustang were not as prominent, but showed up in a number of movies and tv shows.
These were the last of the real classic Mustang muscle cars, before gas rationing, new emissions and bumper laws spelled the end of the classic Ford Mustang.
Click on the blue links for more information on your favorites, including prices.
1971 - 1973 Ford Mustang Diecast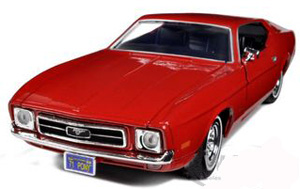 Some of the hardest to find 70's Mustang models, is the new body style 1971 Mustang Sportsroof
or fastback. But this cool red pony car is a great and inexpensive way to start a collection.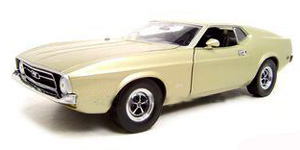 This 1971 Ford Mustang Sportsroof
is decked out in the optional Magnum 500 wheels and popular sports roof or fastback style. Well detailed and just the right size at 1/18 scale.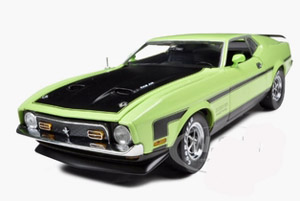 Here is a beauty. It's a 1971 Ford Mustang Boss 351
in Grabber Green paint, with the famous Boss 351 and inverted black "hockey stick" side stripe.
The deluxe interior is nicely detailed, to look great on your showcase or desk.





If you like the 71-73 Boss 351 cars, you can't go wrong with this nice, 1971 Mustang Boss 351
in grabber yellow.
It's crafted in great detail at 1/18 scale.
1972 Ford Mustang Models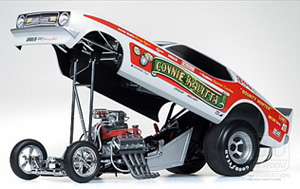 For some reason, the 1971 to 1973 Mustangs are even harder to find in diecast cars, than full size. That's why I've included this very cool 1972 Nustang Connie Kalitta
NHRA Funny car, the Bounty Hunter.
With it's tilting body and detailed chassis, blower and headers, you'll want to be sure to include this piece of history in your collection.
1974 - 1981 More to Come
Stay tuned. I'll be filling in new model years of the Ford Mustang diecast cars as I find them.
Still looking for Mustang ll and early fox body Mustangs in diecast model form.


Even More Mustang Diecast Cars By Year
Here's the most current list of Mustang Diecast Cars available:
1964 1/2 to 1967
1964 1/2 to 1967 Mustang diecast car
1968 - 1969 - 1970
1968 - 1969 - 1970 die cast Mustang
1971 -1972 - 1973
1971 -1972 - 1973 diecast cars
1982 to 1992
1993 to 2001
2002 - 2004
2002 - 2004 diecast Mustang cars
2005- 2007
2005- 2007 New Mustang diecast vehicles
2008 -2009 - 2010
2011 Mustang Diecast And 2012 Boss 302
Boss 302 Diecast Cars
1969 Mustang Boss 302 diecast


Return from Mustang Diecast Model 1971 - 1981 to Ford Mustang


Still looking for the right Mustang dieacast model? Use the search box to find more information.