Ford Mustang Tin Signs
If you're looking for Ford Mustang Tin Signs to decorate your garage, room or as a great gift for that special someone, you'll enjoy the huge selection and great prices.
For complete information including pricing, just click on the blue link.



Nothing moves like a Mustang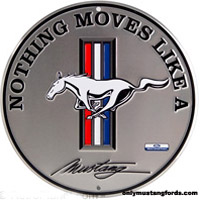 Created with a classy silver gray background, this Nothing Moves Like a Mustang
round tin sign is a great additon to your favorite Mustang enthusiast's corral.






Mustang Diner Sign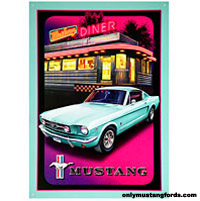 A classic diner and a classic Mustang GT fastback, the perfect combination for your own personal Mustang Diner Tin Sign.
Looks great anywhere!






Big and Bold Tin




It's hard to get better than this, a large scale (23.5" high x 24.5" wide) Ford Mustang Badge
tin sign.
Your own piece of collectible history. How cool is that?














Boss 302 Sign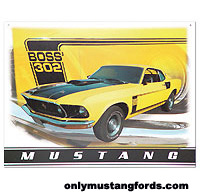 If your favorite Mustang is a Boss 302, this is the perfect Mustang Boss
sign.
It features a very nice 1969 Boss 302, complete with hood pins, scoop and rear window louvers and naturally, its decked out in Bright yellow aka "last stand custard".
Hurry! Your wall is waiting.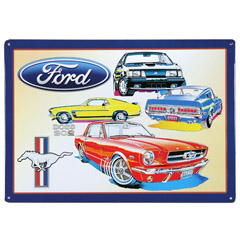 Maybe you or that special someone like all kinds of the famous Ford muscle car. Then this could be the piece you have been searching for.
Featuring models include the iconic 1965 coupe, to the potent 90's SVO Mustang and more, this four generation Ford Mustang
sign is a sure winner.





Mustang Logo Signs
Some of the most popular Mustang signs are the logo signs.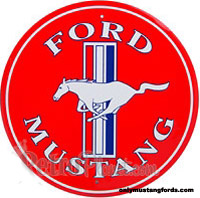 Check out this cool Red Ford Mustang logo tin sign.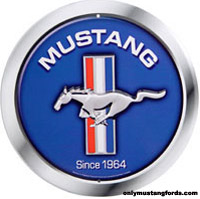 Here's another great metal sign. It's a Ford Guardsman Blue Mustang sign
, celebrating the popularity of your favorite pony car since 1964.










Mustang Diecast Cars
For the best selection of 1964 1/2 up to the newest Boss 302 Mustang diecast cars, check out our ever growing Mustang diecast car sections:

1964 1/2 to 1967 Mustang diecast

1968 - 1970 Ford Mustang diecast cars

1971 to 1973 die cast Ford Mustangs

1982 - 1992 Cars

1993 to 2001 Ford Mustang

2002 to 2004 diecast

2005 to 2007 new Mustang

2008 to 2010 new Mustang

2011 to 2012 diecast Mustang cars


Need an RC Mustang ?
Here's the newly added
RC Mustang
section, which includes a ridiculously fast 2012 Boss 302 rc Mustang.

Return from Ford Mustang tin signs to Ford Mustang