Is A Ford Mustang Your Favorite Car in the World?
.......If you said yes to a Ford Mustang, then this is the place to be.
Whether you're the proud owner of a brand new Shelby Mustang, a kool classic pony car, or a long time Enthusiast, you'll find all that you're looking
for, including new car specifications, driving impressions, pictures and more, as well as step by step Mustang restoration projects that you can do with a little help from our guides (see the sections on the left) like our recently completed project car, a red 1965 Mustang coupe.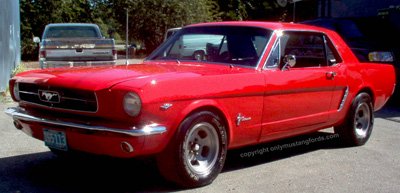 Why Only Mustangs ?
The enjoyment of owning the original Classic Pony Car was something I'd always wanted. And that was what lured me into repairing and restoring them.
Maybe that's how you got here too.
My goal here is simple. Provide you with a One Stop - Top Notch Resource.
What do you get?
Reliable, high quality, Ford Mustang information for every single model year
Specifications and changes by generation
Pictures (lots of pictures ! )
Real Answers to your questions
Step by step articles detailing all aspects of Ford Mustang restoration - saving you precious time and money
Links to new and used parts, books and manuals
The Best Selection of Mustang Diecast Cars Anywhere
Exclusive detailed Downloadable restoration Manuals
The Best New Car and Classic Information
Repairing a newer vehicle, increasing performance with off the shelf parts or a full-out Mustang restoration on your own classic car is an interesting hobby, but its a lot more fun when you can find the answers and information about the parts, equipment and how-to information that you need quickly and easily.
Because it's more fun to finish that project or project car and enjoy it out on the open road.
I was astonished to see how little real information, was on the net, compared to what I'd learned over the years, as an A.S.E. certified technician, technical trainer, car restorer and years of experience working with major auto parts manufacturers.
There needed to be something better. And that's why this resource was created.
Finding What You Need
If you're looking for specs, pictures and information on any model year of the Ford Mustang,they're located in groups on the category tabs on the left.
Each major section at the left, either contains general information on each Mustang's model year or leads you to specific sections for repairs, rebuilding, painting, restoring or getting more performance from your favorite ride. From those sections, you can then click on more detailed information for your favorite model year or project.
If you're looking for Specific pony car Pictures for Restoration, reference or just some cool images of the newest Boss 302 or Shelby model, you'll find them in each section, as well as in the pictures section.
The Parts and Performance Parts Sections contain both, general and in depth technical information in plain English, on popular replacement, restoration and performance parts.
Not only that, but when you need more specific repair, diagnostic or restoration information, I've provided a forum like resource through my Contact Me! page which can always be found at the bottom of the navigation list on the left hand side of any page, as well as the bottom of the main Classic restoration page.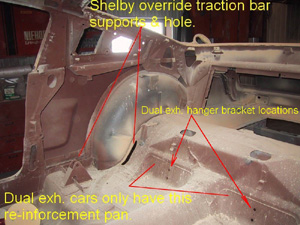 Different And Bettter
The difference with this particular Ford Mustang site is that
you'll find information on how these parts work, how to install them and what you can expect
.
Restoration Information
for your classic, is sorted into categories, such as Engine, Body Work, Painting, mechanical repairs, and other important details.
You'll also find Articles and Pictures of these restoration projects as well as some examples from my own classic Mustang restoration.
You'll also find the best Mustang diecast selection anywhere! My goal is to have every model year and special model of diecast cars so you can find your favorite. These sections change rapidly, due to new model introductions and limited production runs for some cars.
I constantly add new information. So check out the articles and information on things that matter to you the most.
If you'd like to be notified when there's something new, why not join our free notification service?
I'll email you when there's a new post, so you can keep up to date on all the new stuff. And I don't appreciate spam either, so No I won't spam you.
Cheers!
Bruce
P.S. The Mustang is not just another car for me. I own them (three cars at present, a 1965 coupe you see above, a 1970 sportsroof / fastback and a 2005 convertible), I drive them, I restore them and still look forward to seeing what new treats Ford Motor Company, Shelby, Saleen, Roush and other tuners deliver to the dealership showrooms and car shows every year.
Coming Soon:
The Complete Guide To Floor Pan Restoration. Filled with every detail and pictures you need to save time and money. Even if you wouldn't know a welder if you were looking at it! Details to come...
P.P.S. If you are in the Cloverdale BC area summer 2015 you will hopefully spot my 1970 Ford Mustang fastback on the road or at the , new gym in Cloverdale BC, set to open in January. Like My fastback, the gym and the new website are (for at least for another week or two) works in progress. The '70 will take a bit longer.

Use the search box to find information Fast!.

Classic Mustang Information including full specs, restoration guide,racing,technical help,forums, performance mods and lots of pictures.
Your dream Mustang convertible body may not be the one that came with your car. Ford is now licensing brand new 1965 and 1967 body shells.
Mustang ll the second generation mustang. Information,parts,how to articles
Fox body mustang facts, articles,parts,articles.Best years,body kits and more
The fourth generation mustang the fox4,sn-95 mustang chassis,information,parts choices
The fifth generation Mustang,2005 to 2013, history,specs,how to's,performance,pictures. Latest information!
Check out the new 2012 Mustang specs. Incudes the 2012 Boss 302 and Laguna Seca. Horsepower, mpg,styling, interior, options and more.
The 2012 Ford Mustang GT, makes it's debut in the all new Lava Red Metallic. With impressive performance specs and only a modest increase in price, it's a great value for the money.
Check out 2012 Shelby GT500 specs and pictures plus information on pricing, and options.
The 2014 Mustang Order guide is out. Check out the new colors, specs,and special models. First look.
The sixth generation Mustang sports independent suspension, new styling, power and availability in America, Australia, China and elsewhere. Details.
The 2015 Ford Mustang debut has finally arrived. Impressive handling and performance specifications, combine with bold new styling and Ford's ecotec option. Worth the wait.
The 2015 Ford Mustang Ecoboost adds Ford's ecotec engine technology to the completely redesigned pony car.
The 2015 Ford Mustang concept Spy photos have started to flesh out the details and specifications. Our take on the 2015 California Special..
The 2015 Mustang in Australia, Get the details here. Specifications, Pictures and more.
The history of Carroll Shelby and the Shelby Mustang. Covers all years, specs, pictures and concours information.
The Shelby Mustang turned Ford's popular "secretary's car into a legend. Pictures,specs,history,restoration information and more!
The Ford Mustang Shelby Cobra GT500 enjoys a long history and occupies the hearts of many Mustang Enthusiasts. Starting in 1967 as a gentleman's GT350, the Cobra has evolved into a modern supercar.
The Mustang super snake
Roush Mustangs are very popular versions of the Ford Mustang. Pictures and and performance specs show the ongoing history of the Roush Mustang from its beginning to the newest models.
The new 2011 Roush Sport is an aero body kit and appearance package
The 2011 Saleen S302 made it's debut at the Carlisle Ford Nationals 2010. Find the newest information, pictures, specs and more.
Mustang restoration guide with tips,tricks and reader's project pictures
Ford Mustang questions and answers. Find answers to your questions here. Troubleshooting,specs,restoration. You name it!
Air cleaner restoration is a great way to learn classic car restoration. Follow the easy steps as we transform this 1965 Mustang air cleaner.
Valve cover restoration is a good cheap alternative to buying new reproduction valve covers. Here's how to make them look like new.
Ford Mustang distributor restoration and replacement is fun, easy and makes a great first restoration project on your classic muscle car.
Mustang brake rebuilding and restoration. These step by step instructions and pictures show you how to replace and restore the rear drum brakes on a 1965 Ford Mustang.
Color sanding is a special kind of wet sanding, designed to take your paint a show car finish. Here's how.
Mustang fender restoration and repair continues, with surface rust removal and old under coat removal. Next we'll refinish the inner wheelwell and fender.
Floor pan replacement part 2. Trimming, test fitting and welding the pans is covered, along with sealing and rust proofing the 1965 Mustang floor pans
Classic Mustang gas tank installation is simple and cheap. Mustang restoration project or a leaky tank, here's how to do it.
Headliner replacement on your classic car is probably the next most common repair after floor pan repair. Headliner installation can be done by the average enthusiast, with some basic tools, adhesive
Paint your Mustang ? Sure. Whether you want to paint your own car or prep it for the paint shop to save cash. Here's what you'll need to know.
In part 2, we start rust removal on our classic Ford Mustang with some basic tools and attachments for a grinder or rotary drill.
Rust removal and sand blasting for your classic car or vintage Mustang is easy with sand or media blasting. What's the difference? We'll go through the options and look at what works for what.
Rust removal on a classic Ford Mustang or other classic car is common. Here are the best and fastest ways to remove rust and refinish body and chassis parts.
Here's the speed blaster, the small sand blaster, that I use for my Mustang restoration for rust , paint removal and small jobs. It's cheap, easy to use and only takes a small compressor to run it.
Use a siphon feed sand blaster for bigger jobs like rust removal and paint stripping. Works with other media too.
A collection of Mustang articles covering buying and selling your Mustang,performance,repair tips and more.
Mustang GT takeoff mufflers make a quick improvement in sound and performance for your 2005 and newer V6 Mustang. Here's how to install your own.
Modded Mustangs? Whether your favorite Ford Mustang is a classic 1965 or an ultra modern 2010, modding your car is what ponycar enthusiasts do.
Comprehensive Mustang parts Information, member reviews,new and used sources ,classic and restoration information
Mustang performance parts and upgrades. Mild to wild. Wanna upgrade? See what's available for your Mustang? 1964 1/2 to 2010 cars.
Comprehensive mustang body kits information. bullitt,shelby,saleen,steeda.3d carbon,razzi and more. What's included and what's not.
This is the place for information and pictures for Mustang car shows or auto and custom car shows with Mustangs.
Check these important new car buying tips and see how to save thousands on your next car.
Looking for Cheap Mustangs? Here's How to find them. Great tips to help you find your favorite Ford Mustang at the best price possible.
Ford Mustang Enthusiast's Blog. Your source for Mustang restoration,Technical Articles. Up to date News,Mustang pictures, performance parts comparisons,wheels,body kits,accessories and more.
Find 2011 Mustang Car shows, or add your club's car show.
Find Ford Mustang news and cutting edge information right here. From the latest 2011 Mustang info to upcoming models,,technical information, specs, pictures,rumors and more.
Find Mustang clubs in your area or start your own right here
Our Mustang Forums is the place for answers to technical questions,meet new friends, solve restoration issues and get the latest buzz in the Ford Mustang community
Ford Mustang pictures - classic mustangs, roush,shelby,mach I,boss cars and more. Concours detail and more.
Ford Mustang Recall. Is your car safe? Find vehicle recalls, plus important aftermarket parts recalls and technical service bulletins affecting Mustangs.
Classic Mustangs for sale. Find your Next Mustang here. Mustang history,tech,how-to's and more.
Wondering about your Mustang insurance options ? Here's how to get the best rates.
A Mustang diecast car isn't just for kids. Check out the amazing detail in these model cars. Classic and new Mustang styles, 1/18 scale and more. Find your favorite year. Great Prices !
Find a Mustang diecast car 1968-70 models. This is stuff you don't usually see in the stores. Add to your collection or makes the perfect gift for that special someone.
Check these diecast 1970 Boss 302 Mustang cars. Detailed engine compartment and interiors, nice choice of colors.
Looking for a Mustang Diecast Model 1971-81 vintage? Here's a great selection of your favorite Ford Mustang model. More years available too!
Mustang Diecast Cars from 1982 to 1993. the famous 5.0 Mustangs, SVO collectibles. Big selection. Low Prices.
If you're looking for a Mustang diecast car for 1993 to 2001 models, you'll like these choices. Check 'em out.
A great selection of Mustang diecast cars 2002-2004. Includes Mustang gt, svo and 2004 mustang concept car (the 2005 mustang prototype)
Great choices in Mustang Diecast Cars. Looking for 2005, 2006, and 2007 models? All other years too.
Looking for Ford Mustang diecast cars ? Here's the latest and greatest 2008, 2009 and 2010 models. Shelby diecast cars too.
Looking for 2011 Mustang Diecast cars? How about this awesome 2011 Shelby GT500. Check here for more details.
The most 2012 Mustang Diecast Cars on the net. Best selection of all models. Collectables, gifts and more.
2015 Diecast Mustang Collectibles in all price ranges. A great gift or to treat yourself !
The best diecast 1969 Boss 302 Mustang selection anywhere. Detailed interiors, wide choice of colors including Grabber orange and blue, Calypso Coral and more.
A high quality diecast Boss 429 Mustang has been hard to find. But these were worth the wait.
RC Mustang cars for every Ford Mustang enthusiast. From full-on race cars to safe, battery powered rc fun for the little ones.
Ford Mustang hats. Cap off your style with a great looking Ford Mustang logo hat. Check em out !
Looking for Ford Mustang Watches ? A great selection of quality mens and womens licensed Mustang logo watches. These top quality watches look make a great gift to yourself or that special person.
New Ford Mustang Apparel. NASCAR style Jackets, classy Ford Mustang leather jackets. Great watches too! Make great gifts or just because you deserve it.
Ford Mustang tin signs are a great way to enhance your pony car experience. These tin signs look great in the garage, office or bedroom Make a great gift too.
Here's even more Mustang books to check out. We're always updating and finding the best Mustang books. Check them out!
Mustang watches for the Ford Mustang enthusiast. Brand new styles. Boss 302 and more.
Mustang watches for men. Just in time for Christmas or as a present for that special someone. Cobra timepieces for men too!
Just the thing for the Mustang fanatic, a Ford Mustang Mouse. Makes a great present.
Here's a cool free 2013 Mustang game direct from Ford, letting you create your own custom car and then race it in a drift challenge on your iPhone, iPad, or Android
Here's how to replace Mustang sun visors on first and second generation cars. An easy step by step procedure for Coupe and Fastback models.
A Roush supercharger can transform your Ford Mustang. Whether it's a venerable 4.5 or a new Mustang Coyote 5.0 engine, Roush has something that wil make your pony fly!
This Coyote engine dyno test, shows just how underrated the new 2011 Ford Mustang engine really is !
Here's another cool new 2012 Boss 302 video. Great interior and exterior shots and on the road performance. Check it out!
Racing improves the 2012 Mustang Boss 302 and the new Boss Laguna Seca. The new cars benefitted from heavy race testing thanks to the Ford Racing Boss 302R. Read the full story...
the 2011 Mustang RTR is a hot new dealer installed package for the 2011 Ford Mustang. Boosting horsepower and handling it's one you'll want to check out!
A new 2011 Mustang MPG Record was set recently. The amazing new 300 horsepower V6 engine took center stage at Bristol sppedway, where it shattered the old mileage record.
New Mustang pictures, just released include some shots that would be awesome mustang wallpaper. Includes the new 412 horsepower 5.0 liter V8 and the cool 305 horsepower V6 for 2011.
Here's the latest 2011 Roush Mustang information and pictures. Roush has 4 choices for 2011 Mustang fans, the Sport, 5xr,stage1 and stage 2 Mustangs.
The 2011 Langley Cruise in. One of the biggest car shows in North America returns this September. Here's the details.
The 1984 20th Anniversary Mustang GT350 was a very rare production car, with two available engine choices. More...
The 1969 boss 302 was and still is, the pinnacle of Ford Mustang cars. Much more than a styling package, this car was designed to win races and look great on the street. Here's the full scoop.
1965 Mustang exhaust system. Quality 304 stainles steel construction. H-pipe,turbo mufflers,mandrel bent tubes. Check it out!
The Hot Wheels Color Shifters Road Trip toured Canada with a color changing 2010 Mustang. Here's the details.
Ford Mustang Mirror replacements, upgrades and conversions. Turn signal mirrors, self dimming rearview mirrors. Mirror covers.Great Deals!
To further tantalize us, we've just found some new Ford Mustang videos just released by Ford Motor Company. The two videos feature both, the new 2011 Mustang Gt and the new Mustang V6.
If you're looking to buy a performance exhaust system for you Ford Mustang, the Mustang SLP exhaust is one of the top performers. Here's why.
Complete new Ford Mustang GT information . Specs,pictures,comparisons,fuel economy,performance and much more.
Scott Drake makes Mustang Parts and Reproduction Parts for budget and high end Mustang restoration. This is a name that should be on your list when you're looking for parts.
Used Mustangs. An Important Guide if you are looking to buy or sell. Covers all generations, pictures, specs and more.
A Boss 302 Canadian Connection ? The Boss302R and the 2012 Laguna Seca have some Canucks to thank for making the new car all it can be!
Fighting red light camera tickets won't be necessary with a new smartphone and GPS app. Here's how it works.
Green Mustang? Which was your favorite of the famous green Mustangs? The Bullitt,Boss 302 or other Ford Mustang. Vote for the best of the best!
Some used Ford Mustang parts are a great deal and a solid alternative to new parts. Here's how to get the best deals.
The 2011 Ford Mustang beats Camaro sales in May. Even with the new Transformers movie and heavy advertising, the 2011 Ford Mustang is galloping ahead in sales. Amazing mpg is just the beginning.
Ford Mustang Insurance. Find out what insurance companies don't want you to know. Get the answers to important auto insurance questions.Uncover big discounts.
Classic car insurance Guide. Serching for Mustang car insurance or other classic cars? Here's how to get the best and the cheapest car insurance quote.
Share this Mustang site with other enthusiasts. Mustang specs,restoration,pictures and more.
Privacy policy
disclaimer
Contact me with your Ford Mustang questions and comments. Get answers or post an answer.
onlymustangfords.com sitemap