Looking for a Diecast Boss 429 ?
Finding a high quality diecast Boss 429 has been difficult or impossible. But these cars were worth the wait.


Diecast 1969 Boss 429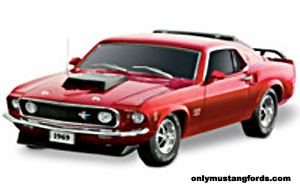 This diecast 1969 Boss 429, has to be one of the nicest offficially licenced diecast 1969 Mustang BOSS 429
replica cars you'll ever find.
This beauty is hand crafted and hand painted, to recreate every detail of the famous NASCAR homologation special. And attention to detail is clearly evident. (the pictures via the link are much better)
What's also unique about this Red Beauty, is the scale.
Unlike the usual 1:24 and 1:16 scale diecast cars which are typically the size you'll find when looking for top quality cars, this sweet limited edition Mustang offering, of only 2,859 cars was crafted at 1:12 scale.!
At that scale, you know the detail of this exquisite show piece, has to be there. And That's evident right from the raised white letter Polyglas GT tires on chrome/black Magnum 500 wheels, to it's chromed hood locks and radio antenna.
Attention to detail doesn't stop at the surface either. Look below and you'll find a nice authentic looking exhaust system with correct mufflers, orange Koni shocks and even detailed suspension bolts.
Grabber Blue Boss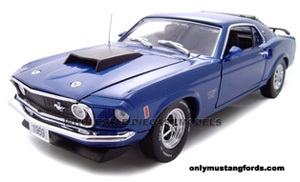 If you're looking for a 1:24 scale diecast car, you'll appreciate the size and quality of this sweet little 1969 Ford Mustang Boss 429
, which is painted in the iconic Grabber Blue, with Boss 429 specific graphics and wide hood scoop.
It also features some nice Magnum 500 wheels, front and rear air dams and the highly desired fastback window louvers.
1970 Boss 429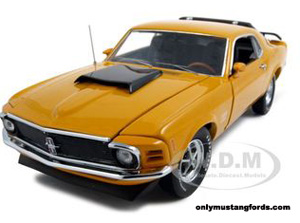 If you prefer the styling and look of the 1970 Ford Mustang, you may want to check out this cool limited edition 1970 Boss 429 Orange
brought to you by the folks at the Franklin Mint.
With a limited production of only 2,500 cars, this famous factory muscle car, features a nicely detailed Ford 429 V8 engine, wood rimmed rim blow wheel and deluxe interior package.

Looking for more Mustang diecast cars? Check out all the diecast car sections:
1964 1/2 to 1967
1964 1/2 to 1967 Mustang diecast car
1968 - 1969 - 1970
1968 - 1969 - 1970 die cast Mustang
1971 -1972 - 1973
1971 -1972 - 1973 diecast cars
1982 to 1992
1993 to 2001
2002 - 2004
2002 - 2004 diecast Mustang cars
2005- 2007
2005- 2007 New Mustang diecast vehicles
2008 -2009 - 2010
2011 Mustang Diecast And 2012 Boss 302
Boss 302 Diecast Cars
1969
1969 Mustang Boss 302 diecast

1970

1969 Mustang Boss 302 diecast


Boss 429 Diecast
Diecast Boss 429

Returm from diecast boss 429 to Ford Mustang