Diecast 1969 Boss 302 Mustang
Check out these awesome diecast 1969 Boss 302 Mustang cars. The largest on the net and the best the selection of colors,scale choices and detail.
Whether your favorite Mustang legend is a dynamite Calypso Coral, slick Grabber Blue,or decked out in full racing colors, you'll find these 1969 Boss 302 Mustangs here. More detailed information including prices, can be found by clicking the blue links.
1969 Boss 302 Die Cast Cars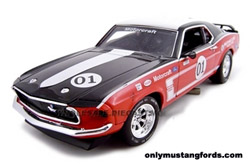 Looking right at home on the Laguna Seca road course or in your home, this cool Boss 302 Mustang
race car is equipped with a full race paint job, black and red two tone paint and contrasting white stripes in 1/24 scale.



If your color isn't red, not to worry. This beauty is also available as a Blue Die Cast Mustang Boss
with black in a two-tone paint scheme with White stripes and accents like the red model.




Doors, trunk lids and hoods open to reveal the cars nicely detailed interiors and of course the race-ready 302 cubic inch V8 engine, custom cold air intake and ducting.



Wimbledon White and a Deluxe Interior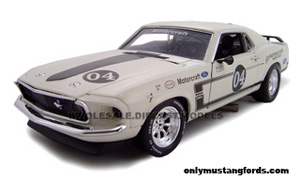 Here's a sweet 1/18 scale 1969 Mustang Boss 302
outfitted with a deluxe interior and cool racing wheels.
Nicely detailed, it includes opening doors, trunk and engine compartment, with racing gauges, a fire extinguisher and dual snorkel air intake in 1/24 scale.


Acapulco Blue Boss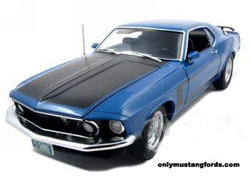 Complete with a console, deluxe interior and space saver tire, this detailed Acapulco Blue 69 Mustang Boss
is a sure winner.





Black Jade Beauty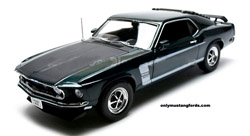 Looking suspiciously like a rare Black Jade Boss 302
fastback, this diecast beauty comes complete with the correct front and rear spoilers and the optional and cool rear window louvers.
Oh, and of course some tasty Magnum 500's on those jet black tires.
More Diecast Mustang Cars
Here's the most up to date list for our Mustang diecast car sections:
1964 1/2 to 1967
1964 1/2 to 1967 Mustang diecast car
1968 - 1969 - 1970
1968 - 1969 - 1970 die cast Mustang
1971 -1972 - 1973
1971 -1972 - 1973 diecast cars
1982 to 1992
1993 to 2001
2002 - 2004
2002 - 2004 diecast Mustang cars
2005- 2007
2005- 2007 New Mustang diecast vehicles
2008 -2009 - 2010
2011 Mustang Diecast And 2012 Boss 302
Diecast 1969 Boss 302 Mustang
Looking for an RC Mustang ?
Here's a link to the newly added RC Mustang section, which includes a ridiculously fast 2012 Boss 302 rc Mustang.

Return from diecast 1969 Boss 302 to Ford Mustang