Mustang Car Shows and Events
Looking for Mustang car shows and pictures? This is the place to start. You can find information on upcoming shows, pictures and links for Mustang Shows and events.


The information below includes both, Mustang car shows and other events which either feature the Ford Mustang or are Ford shows with Mustang entries.
Fall 2012 Mustang Car Shows
Depending on where you live, there are still some shows left for the 2012 season. Here's a link for the rest of the year's Ford Mustang and Shelby Shows and Events for 2012.

Living farther north? To give you an idea of what's coming up for 2013 in your area, check out the 2010 listings on this page and the 2011 Ford Mustang shows . Most of these are annual events.
Can't find one in your area yet?
A link for the new shows for 2013 is coming soon!


Events for April 2010
March 29-April 3
The Vancouver International Auto Show was a great hit. The people from Ford had a bevy of beauties for all to see (Mustang's of course).
On exhibit, were a bright red 2011 Mustang V6 convertible with the deluxe interior, a Robins egg blue 5.0 Mustang GT coupe and a Dark Argent 2011 Shelby GT500. Here are the full details from the 2010 Vancouver International Auto Show.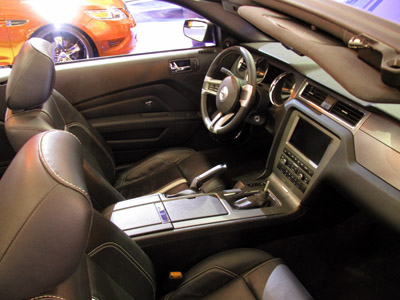 April 24-25
* Ford Racing Mustang Challenge - Virginia International Raceway in Alton, Virginia.
* BC Classic & Custom Car Show - Abbotsford, BC Canada Plenty of great Mustangs and Shelbys were on display at this annual event, including a 1978 Mustang ll Monroe Handler. See the pictures and information from the show.
April 25
* The 25th Annual Fabulous Fords Forever - Knott's Berry Farm, Buena Park, California. Billed as the most gigantic car show ever, features Fords from 1903 to present and includes some jaw dropping Ford Mustang restorations. Cars from 10 states and several provinces in Canada took part in the fun and festivities.
April 25
* 32nd Annual Mustang and Ford Car Show - Lexington, South Carolina
Mustang Car Shows - May 2010
May 1
* 22nd Annual Ford Powered Show - Roanoke, Virgina
May 1
* 27th Annual Spring Show and Shine - Port Angeles, Washington
May 2
* Mustangs & Fords in Warner Center Park - Woodland Hills, California
May 8
* 2nd Annual Get to the Point Car Show - 1050 Elida Avenue Delphos, OH
May 8-15
* Mustang and All Ford Show - Woodbridge, Virginia
May 15
* Regional Mustang and Ford Show hosted by -Jacksonville Mustang Club, Jacksonville, FL
May 16
* 2010 Ford Lovers West Coast Nationals - Excelsior Road Sacramento, CA
May 21-23
* Silver in the Hills Cruise - Stone Mountain, GA
* 33rd annual Shelby Spring Fling - Nashville, IN
May 23
* Wisconsin Early Mustangers 28th annual All Ford Show and Swap - Cudahy, WI
* Mustang and FoMoCo Spring Dust-off - Mechanicville, NY
May 28-29
* The Ford Racing Mustang Challenge - Lime Rock Park
May 28-30
* SVT Superfest presented by the SVT Cobra Mustang Club - Danville, VA
May 29
* 12th Annual Texarkana Mustang Stampede - Texarkana, Texas
May 29-30
* Mustang Enchantment - Albuquerque, New Mexico
May 30
* Shelby's & Stangs Sunday - Matamoras, PA
* 28th annual Regional Mustang Show hosted by the Rio Grande Mustang Club - Albuquerque, NM
* Valley Forge Mustang Club 29th Annual Chester County Car Show - Kimberton, Pennsylvania
* SAAC-Motor City Region 35th annual Show and Go - Ford World Headquarters, Dearborn, MI
Mustang Car Shows - June 2010
June 3-6
* The Bullitt Nationals Chino, California
June 4-6
* Carlisle All-Ford Nationals- Carlisle, Pennsylvania Fairgrounds
June 4-6
* Mustang Club of America Chisholm Trail National Mustang, Oklahoma
June 5
* 2nd Annual South Texas Stangs Benefit Car Show - New Braunfels, Texas
* Mustang Day at Kings Dominion - Doswell, VA
June 5-6
* The Ford Racing Mustang Challenge - Watkins Glen International
* 8th Annual Car Show - Simi Valley, California
June 6
* 29th Annual Central Illinois Ford Day Show and Swap hosted by the Central Illinois Mustang Association - Bloomington, IL
June 10
* Jack Roush Meet and Greet - Livonia, Mich.
June 11
* NMRA Ford Nationals at Milan Dragway - Milan, MI
* Restomods In Reno 2010 - 2500 East 2nd Street Reno, NV. All Fords welcome, original, mild and wild classes.
June 12
* 30th annual Mustang Show and Swap Meet - Calhoun, GA
* Mustang Club of America regional and 34th annual All Fords Show hosted by the Western New York Shelby and Mustang Club - Amherst, NY
* 29th annual Mustang & All Ford Show sponsored by the West Michigan Mustang Club - Grand Rapids, MI
June 13
* 33rd annual Mustang Spring Round Up - Mustang Car Club of New England - Manchester, CT
June 17
* 4 Clubs for a Cure car Show - Monroe Township, NJ
June 18
* 15th Annual Mustang and All Ford Weekend - Falls City Mustang Club,Jeffersonville, IN
June 19-20
* The Vintage Mustang Owners Association - 33rd annual Car Show- largest gathering of Vintage and Late Model Mustangs, Shelbys, Cobras, and 1960-1970 FoMoCo muscle cars in Northern California
* The Ford Racing Mustang Challenge - Mid-Ohio Sports Car Course
* 8th annual Mustang and Ford Show - Gate City Triad Mustang Club, Greensboro, NC
* Fabulous Fords for Father's - North Central Mustang Club, Montoursville, PA
* Vintage Mustang Owners Association's 33rd annual Car Show - Cupertino, CA
June 25-27
* Barrett-Jackson Orange County Auction - Orange County Fair Event Center
June 26
* American Spirit Unbridled Freedom -Queen City Mustangers - West Chester, OH
Mustang Car Shows - July 2010
July 9-10
* Arthritis Foundation 28th Annual Classic Auto Show & Cruise-In - Mustang Club of Ohio, Dublin, OH
* San Angelo Ford Mustang Club's 21st annual Roundup - San Angelo, TX
July 11
* Mustang Muscle at Montana West - Quakertown, PA
July 15-18
* 2010 Mustang Club of America Grand National - Bellevue, Washington
* NMRA Super Bowl of Street Legal Drag Racing at Route 66 Raceway - Joliet, IL
July 17
* 28th Annual Mustang & Ford Show - Fort Wayne, Indiana
* Downtown Street Fair Car Show - Northstar Mustangs, Fargo, ND
July 17
* Tri-State Mustang/Ford Club's 30th Annual All-Ford Show - Cincinnati, OH
July 17-18
* The Ford Racing Mustang Challenge - New Jersey Motorsports Park
* 26th Annual Mustangs & Fords Summer Round-Up - Mustang Car Club of New England, Marlborough, MA
July 20-24
* MustangWeek 2010 - Myrtle Beach, SC
July 24
* 4th Annual Foxbody Cruise - Myrtle Beach, SC
July 31-August 1
The Ford Racing Mustang Challenge - Autobahn Country Club
Mustang Car Shows - August 2010
August 1
20th annual A Day at the Park Mustang and Ford Car Show - Bourbonnais, IL
August 7 1st Annual Mustang & All Ford Car Show - St. Louis, MO
August 12
Jack Roush Meet and Greet - Livonia, Mich.
August 13-15
Mustang Club of America Hoofprints in the Sand National - Virginia Beach, Virginia
August 18
Jack Roush Meet and Greet - Knoxville, Tenn.
August 21
NJStangers 2nd Annual Downs Ford Car Show - Toms River, NJ
September 2010
September 2-6
Sturgis Mustang Rally - Sturgis, South Dakota
September 2-6
Mustang Club of America Mustangs at the Mansion National - Asheville, North Carolina
September 11-12
The Ford Racing Mustang Challenge - Miller Motorsports Park
September 19
Mustangs at the Queen Mary 14 - Long Beach, California
September 25
36th Annual Mustang, Shelby, and Ford Show - Maggie Valley, North Carolina
September 30
Jack Roush Meet and Greet - Salina, Kan.
Am I Missing some Mustang Car Shows ?
If I missed your show, drop me a line and I'll list it.
You Can Contribute !
If you know about other upcoming Mustang car shows or you have just been to one, why not contribute?
There's a Contact form at the bottom of the page. Send me some information and I'll post it here. If you have some great Mustang pics, I'll see what I can do to get some up for everyone to enjoy.



Contact Me !
Note: If you have a technical question, please supply as much information as possible. (ie. year, model,engine) and exactly what's happening now.

Same thing goes, if you have an answer or solution you'd like others to know about.

Ready?. Fire away!
What Other Ford Mustang Enthusiasts Have to say..
Click below to see contributions from other visitors to this page...