Free 2013 Mustang Game Apps

Home
>
Fifth Generation
>
2013 Ford Mustang
>
Free 2013 Mustang Game
A fun, Free 2013 Mustang game is now available for download on your Apple or Android device.
Maybe you're familiar with the Ford Mustang online customizer that made it's debut in the fall of 2011. This downloadable app was a cool little toy
 that you could play with, on your phone or directly on Ford's corporate website, allowing you to create your own custom pony car and save it as a computer desktop wallpaper.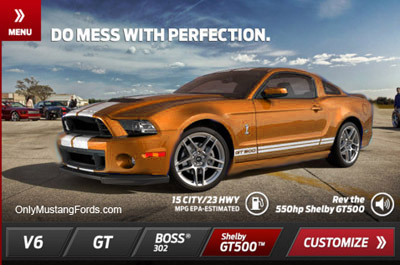 This year, Ford has launched a free 2013 Mustang game for your iPad®, iPhone®, iPod® Touch and Android powered phone, as part of their Online Mustang Customizer, that's even more fun and interactive than the original.
Starting with an assortment of different camera angles to choose of your favorite Ford, the click of a mouse or touch screen allows you to  make a custom creation, suited to your taste, with choices that range from color, trim, optional wheels and tires, spoilers, stripes and more.
And if a highly modified plain Jane 'Stang with options just doesn't cut it, you can even turn it into your own personalized 2013 Shelby GT500 or the awesome Boss 302.


More Online Fun

The fun doesn't stop there however. Want to share your creation with friends or on your device? No problem. You can save your car as a desktop wallpaper, use it as the background on your mobile device or share it on Twitter and Facebook.


Win a Free 2013 Car !

Just for checking out the online customizer, you'll also be eligible to enter your custom designed car into a contest for a chance to win one of the four real cars which will be built from the dream car entries. The more points you earn, the more contest entries you'll receive.


Free Games and Fun
So where does the free 2013 Mustang game come in?
When you create your custom cars, you save them into your "garage", which gets them automatically entered into what Ford calls, "the battle mode", where you can earn points and badges for your creation, vote on your favorite custom car and participate in battles and individual challenges agains your Facebook buddies.

The Drift Challenge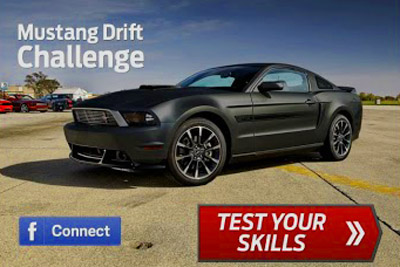 That's not all. If you are a fan of the Need for Speed games, or  Fast and Furious movie epics, you'll get a kick using your creations in the Drift Challenge mobile app.
Choose any of the ponies in your stable and race them around nine different drift courses, while trying to beat your friend's best times!  And yes, it's free for both platforms. The free downloadable game is available for apple products through iTunes and the Apple App Store.

Apple Device Requirements
Compatible with iPhone 3GS, iPhone 4, iPhone 4S, iPhone 5, iPod touch (3rd generation), iPod touch (4th generation), iPod touch (5th generation) and iPad. Requires iOS 4.0 or later.


Android Device Requirements

All android powered devices with version 2.2 or newer will work with the app. Get it at the Google Play Store.

And of course the best part is, that you can play the free 2013 Mustang game anywhere. On the bus, while watching tv or anywhere you can pick up a WiFi signal.