The 1984 20th Anniversary Mustang GT350
The 20th Anniversary Mustang was an important year for Ford's little pony car.



And not only to celebrate two decades of the introduction of the classic Ford Mustang.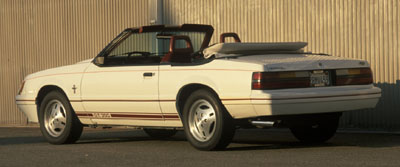 In fact, the biggest change, that would spell the future of the marque, was quietly introduced under the hood and to very little positive feedback from magazines or enthusiasts.
5.0 liter Mustang V8 Fuel Injected
It was the beginning of the fuel injected 5.0 liter Mustang V8 in the famous fox body cars.
The reason for the lack of enthusiasm, was the fact that of the two 302 cubic inch V8's offered in the 1984 Mustang, the fuel injected (throttle body injection) V8 was actually 10 horsepower lower than the other "conventional" 4 barrel carbureted V8, at 165 horsepower.
Not only that, but the hipo (high performance) carbureted version was available with a nice 5 speed manual transmission, featuring closely spaced gears and a 5th gear overdrive, while the fuel injected 5.0 was only available with a 3 or 4 speed automatic.
And this version, along with the powerful 2.3 liter turbocharged 4 cylinder engine, was made available in a special edition 20th Anniversary Mustang GT.
The 20th Anniversary GT Package
No doubt, to relive past glory and remind pony car enthusiasts of the first high output Shelby Mustang, the GT package was decked out only one way. With Oxford white exteriors and a Canyon red interiors.
Included in the new interior package, came some tasty adjustable sports seats.
Along with the color combo, came throw back GT350 stripes along the lower body reminiscent of the original 1965 Shelby GT350's.
Limited Edition Production
Out of the almost 142,000 Mustangs produced during the 1984 model year, there were only 5,260 20th Anniversary Mustang copies produced. And out of those, only 350 were manufactured with the turbo 4 cylinder engine, making them rare indeed!
Engine and Power Specifications
Keeping true to what you'd expect when you ordered a Mustang GT, most of the V8 powered cars were produced with the higher performance 175 horsepower 5.0 liter V8 engine.
There were however, a number of the throttle body injected 302's with Ford's new AOD (automatic over drive) transmissions were also made.
The turbocharged Mustangs, were rated at 145 horsepower and with a few small modifications, could be made to produce another 35 or 40 more horsepower.
If you're lucky enough to own one, its a cool thing to know you won't be seeing yourself on the street very often!

Return from 20th Anniversary Mustang to 1984 Ford Mustang

Return to Ford Mustang