Siphon Feed Sand Blaster
What's a siphon feed sand blaster and why would you need one?




As many of you know, I get a lot of use from my mini sandblaster, but for larger jobs and paint (like my new rustier Mustang project) I needed something that wouldn't run out of air so fast.
So I finally broke down and bought a 60 gallon compressor.And now that I have a larger air compressor, I've noticed a few things.
Faster Media and Sandblasting
Even with my mini sandblaster, the jobs were quicker and better.
Although I could get through one hopper of media before the small compressor needed to spool up, I noticed that the extra power of the larger compressor made more progress with the same amount of sand.
I needed to know when priming and painting that my job wouldn't be ruined from a fall off of air pressure.
So I bit the bullet and got one of these shiny new 60 gallon compressors.
Since I now had air volume coming out of my .... I thought it might be time to check out a siphon feed sand blaster.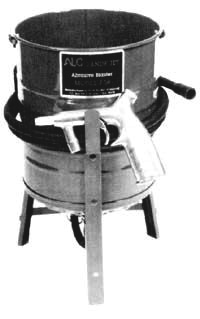 Advantages
Along with the pure speed increase, the fact that the hopper could hold a whole 50 lb bag of media, meant I could cover a large area without filling and re-filling.
Disadvantages
Although this gravity feed sand blaster is not huge, it's nonetheless a bit oversized for touch ups, like spot rust removal. For that, I still use the mini media blaster.
Sandblaster Prices
While the mini sandblaster usually retails for less than $60, the larger media blaster prices have a much bigger range.
Prices start at around $150 and can run upwards of $2,000 for a big commercial unit.
If you want a decent shop unit that can take anything you put to it, you may want to check this one out.
It's the ALCF50 Siphon Feed Sand Blaster Kit
.
It has a 50 lb capacity, so it takes one standard bag of media and it works with the various abrasives and liquids on metal, plastics, wood and other surfaces.
It comes equipped with three steel nozzles; 13/64, 1/4 and 5/16 inch sizes. The kit also includes three air jest, of 5/64, 1/8 ,and 5/32 inch diameters.
Warranty
It comes with a 2 year warranty.


Return from siphon feed sand blaster to rust removal and sandblasting

Return to small sandblaster

Return to Ford Mustang