The 2010 Mustang
The 2010 Mustang had one of the most subtle, yet biggest changes in the 46 year history of the Ford Mustang. They changed the pony logo!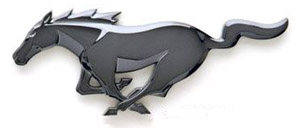 I'd say the horse looks more muscular. FoMoCo says their 2010 Ford Mustang model is more refined and muscular, so I guess that reflects the change. But that's just the beginning...





What about Mustang mpg ? Fuel economy is Better. The V6 Mustang gets 18 city/26 highway and the V8 is close by at 16 city and 24 mpg highway. Both engines pick up 2-3 mpg city and highway in fuel economy from 2009.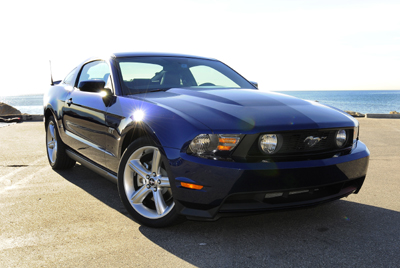 Styling at the front is reminiscent of a reversed treatment of the 1970 nose, with running lights where the '70 had intake gills. It looks good though.


Exterior Changes
At the rear, the 2010 Ford Mustang features a new curved up tail light and rear bumper fascia.
Accordingly, there is a revised front nose and rear bumper for the other models. A new sculptured rear trunk or decklid has been added and Ford offers an optional rear back up camera.
Wheel choices grow by one inch for all available sizes. The standard V6 wheel is now up to 17" from 16" and the 2010 Mustang GT's can now be shod with optional 19" factory wheels.
The new cars also get retro sequential turn signals, not seen since the 60's and 70's Shelby,Cougar and T-Birds.
Interior Changes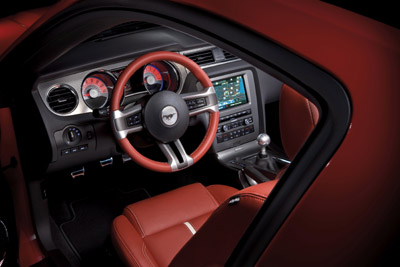 The old and cheap looking hard plastic dash get a much needed upgrade to what Ford calls, soft-touch TPO. This might be a new technology for the 2010 Mustang, but a soft dash isn't exactly rocket science for other manufacturers.
Seats have softer materials as well, giving them a more luxurious and upgrade feel. To me, the fit and finish seem better than previous new Mustangs too.
The new dash looks like an updated version of a combination of a 1965 Mustang combined with some elements of the old Mustang ll. Whatever it comes from, it works, and looks like it's supposed to be in a Mustang.
One thing that really caught my eye was the redline indicator on the tach. When you hit redline, the background of the tachometer glows red. That's very cool.
Engine and Power Train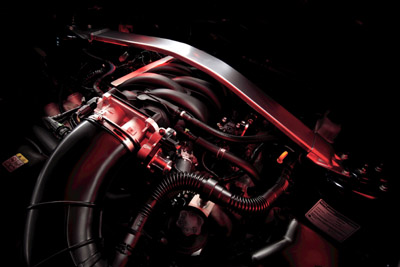 The base engine remains as a 4.0 liter V6 with an output of 210 horsepower. Unfortunately, this continues unchanged since the new model introduction in 2005.
Compare this to the new Camaro, whose new V6 produces 306 horsepower and runs it out of a six speed transmission and you see the problem.
Ford promises a new for 2011 V6 with some 305 horsepower, so we'll see where the V6 horsepower war goes. Here's how the 2010 Ford Mustang V6 stacks up against the 2010 Camaro V6.

Maybe as a result of the Chevy biting at its heels, the folds at Ford changed the Standard 4.6 liter Bullitt engine into the standard GT engine, which produces 315 horsepower. Given the fact that the Ford Mustang equipped with either a V8 or V6 is lighter than the competitive equivalent, it should make for some interesting run offs.
To keep up the ante, The new Shelby Mustang Cobra now has the nasty fast 5.4 liter V8 kicking out 540 horsepower, which was previously found only in the 2009 GT500KR.
Life is good.
Update:
Some new performance numbers are now in for the 2011 Ford Mustang. Handling on the skid pad rings in at a tenacious .91g , while at the drag strip, the 4.6 liter GT runs the quarter mile in 13.5 seconds with a trap speed of 102.7 mph, compared to the higher horsepower, but tubby new Dodge Challenger, trailing by a full second.
2010 Mustang Performance Parts
There's some cool performance parts for the 2010 Mustang already. One of them is a wild new supercharger. Check it out.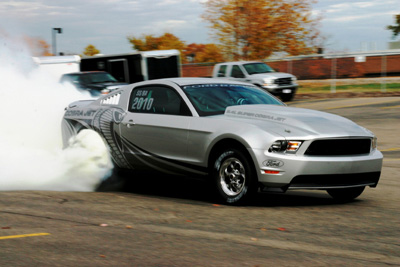 The 2010 Ford Cobra Jet
Get the scoop on the extremely limited production 2010 Ford Cobra Jet that you see above.



2011 Ford Mustang Videos
Dreaming about the future of the breed? Forget the Mustang pictures, we have 2 new 2011 Ford Mustang GT 5.0 V8 videos courtesy of FoMoCo.
Click on the links below to view them.
2011 Ford Mustang GT 5.0 video
2011 Mustang Daytona 500 Pace Car
The 2011 Mustang at Daytona. Check it out!


** NEW ** Mustang 5.0 Fever Sweepstakes
Ford has a way for you to win a brand new customized 2011 Ford Mustang GT with its awesome 412 horsepower V8. Don't miss this! Here's a link to all the details of the Mustang 5.0 Fever Sweepstakes and how to enter.


2010 Ford Mustang Sales Figures Released

Check out the 2010 Mustang Sales figures


2011 Dub Edition V6
There's a new Pony car for you if you liked the look of Nelly's Custom DUB Mustang.
Ford just released a new 2011 Dub Edition Mustang. Here's the details.




Contact Me !
Note: If you have a technical question, please supply as much information as possible. (ie. year, model,engine) and exactly what's happening now.

Same thing goes, if you have an answer or solution you'd like others to know about.

Ready?. Fire away!
What Other Ford Mustang Enthusiasts Have to say..
Click below to see contributions from other visitors to this page...

2011 GT500 With HID Headlamps
Question Re: 2011 GT500 With HID Headlamps Do you know if there is a RHD conversion of the 2011 Shelby Mustang GT500 available Please. PETER FRANICEVIC …
Headlight Removal 2010 Mustang
Question: Does the front bumper need to be removed from a 2010 Ford Mustang, to take out the headlight assembly...I want to do a headlight swap... …


Return from 2010 Mustang to Fifth generation Mustang (2005-2010)

Return to Ford Mustang Home