The 2010 Ford Mustang V6
The 2010 Ford Mustang raced into showrooms and driveways everywhere and the reasons are many.
Although the biggest attention by buyers remains the GT package, a large percentage of buyers go with the 4.0 liter V6 equipped cars.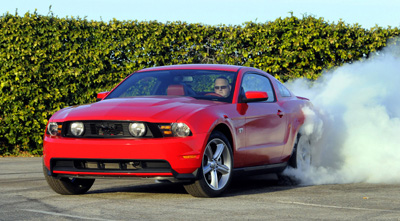 And unless your desire is nothing other than V8 performance, you'll no doubt be satisfied with the V6 powered pony car's abilities and particularly it's fuel economy.
While we've dealt with overall exterior and interior changes to the iconic pony car in our other 2010 Mustang section there's still more to talk about, including how the 2010 Mustang V6 cars hold up to its long time rival, the 2010 v6 Camaro.
If you're a pony car fan, there's good news and bad news. In a duel between these cars,the news isn't all bad, but it could be better (wait for 2011).
Mustang Prices for the 2010 Model
If you're in the market for a new or used Mustang, here's a resource you may want to check out. You'll find current listings and a good selection of 2010 Ford Mustang
cars, as well as prices and options.


2010 ford Mustang V6 vs 2010 Chevy Camaro V6
The Camaro's real advantage here, is beating the Mustang to the punch in the V6 performance engine release. Chevy's new V6 churns out 304 horsepower with it's borrowed from Cadillac, V6.
Horsepower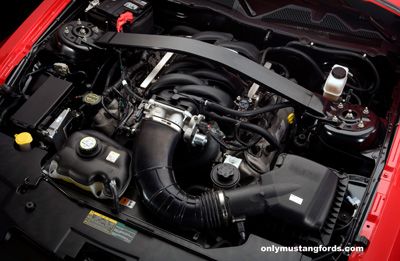 The Mustang V6 engine by comparison provides only 210 horsepower. Good for 2005 when it came out, but not up to the muster for 2010.
Weight
Curb weight for the Mustang is 3.400 lbs, while the Camaro weighs in at a fairly tubby 3,780 lbs, which helps to explain why with 96 more horsepower to play around with, 0-60 mph times are not miles apart.
Quarter mile and 0-60 mph
According to Car and Driver, the Camaro posts a 0-60 mph of 5.9 secs and a quarter mile of 14.5 @ 99 mph, while the Mustang runs 0-60 mph at 6.6 seconds and a quarter mile of 15.3 @ 93 mph.
Handling and Skidpad
Here's where the lighter weight of the 2010 Ford Mustang comes in handy. While the Camaro turns in a respectible .83g on the skidpad, the lighter Mustang grips harder yet, with a .88g tally.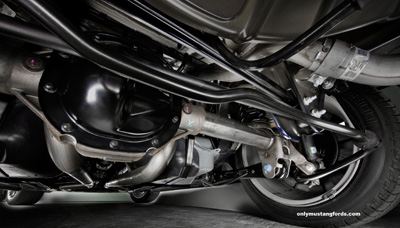 Fuel Economy
Chevy's newer technology takes the front seat on gas mileage, registering 18 mpg city and 29 mpg highway, compared to the Mustang's 16 mpg city and 26 mpg highway. Seems strange, when you look at the weight differences until you see that a 6 speed transmission equips the Camaro and a 5 speed outfits the Stang.
So the 2010 Mustang V6 has some stiff competition in the performance department. But if you like both cars, and want to preserve your cash, the almost $2,000 difference in sticker price may just be the deciding factor.
The 2011 Mustang's new V6 engine should quickly clear up any deficiencies in the Mustang vs Camaro shootout, but In the meantime here's more information on the 2010 Ford Mustang GT and other 2010 model specs.

Return to Ford Mustang home.

Return to fifth generation Mustang


Contact Me !
Note: If you have a technical question, please supply as much information as possible. (ie. year, model,engine) and exactly what's happening now.

Same thing goes, if you have an answer or solution you'd like others to know about.

Ready?. Fire away!