1968 Mustang Paint Colors and Paint Code Decoder
Looking for the complete 1968 Mustang paint colors, color Codes and data plate information?
No need for a data plate decoder, I've included all the information you'll need to find your original paint code from your Mustang data plate or get the details you need to replace a missing original for your pony car.

Whether it's time to repaint your classic 1968 Ford Mustang or maybe just see if the color of your car as it sits now, matches the original color codes listed on your driver's door, the color chips and corresponding paint codes shown below, should help the cause.
1968 Mustang Paint Chips and Codes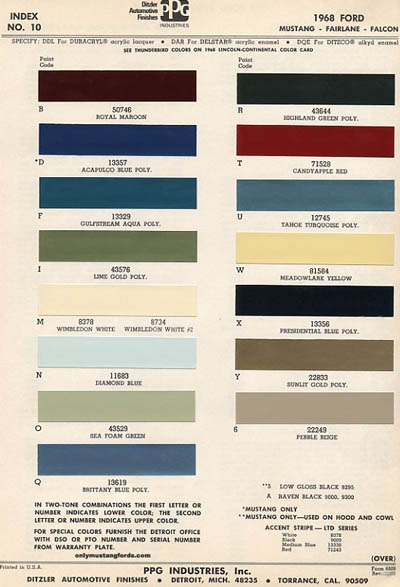 Color Choices and changes for the 1968 Ford Mustang
A total of eight colors were carried over from the 1967 Mustang (and some right from the original 1965 shades). Another eight new shades were added to the list some of which have become just a little famous in their own right, such as Highland green, seen on the original 390 cubic inch Big Block V8 powered Mustang Bullitt, seen in the 1968 Hal Holbrook movie, Gone In 60 Seconds.
While not as well known as Highland green, the now classic Seafoam Green, has become another one of the iconic 1968 Mustang paint colors.
Carryover Colors and Paint Codes:
Raven Black A
Acapulco Blue D
Lime Gold I
Wimbledon White M
Diamond Blue N
Brittany Blue Q
Candyapple Red T
Pebble Beige 6

New for 1968 Shades:
Royal Maroon B
Gulfstream Aqua F
Seafoam Green O
Highland Green R
Tahoe Turquoise U
Meadowlark Yellow W
Presidential Blue X
Sunlit Gold Y

Special Ford Promotional Colors
Like previous years, a number of non-standard special order and promotional colors were offered, both for the Shelby Mustang as well as a number of regional DSO "specials", such as the High Country Special, California Special, Ski Country Special and other specially ordered cars.
Typically, the clue as to whether or not you have one of these special edition cars, is the lack of a letter code in the data plate paint color box. These are going to be harder to match, if you are planning on repainting your car to the original 1968 Mustang paint color codes, but the best source of original information is likely to come from a paint distributor who has stocked Ditzler PPG or Dupont.
The problem of course, when it comes time to find the paint code, is that there isn't one and unless you are fortunate to have the original sticker or factory invoice, you are left with trying to find some sample of the original 1968 Mustang paint colors and then match one up at your local auto parts store or paint shop.
Finding Original Paint to Match
As I've mentioned in other sections, since most of these cars have seen a repaint or two, or had major rust repairs, it can be difficult to find any easy to access to the original color.
The two easiest pieces to reach, that are not usually repainted, unless all new parts, or a full restoration is done, are the under sides of the trunk lid and hood.
Next up, is unscrewing your stamped rocker covers or kick panels and examining the paint below. Ford typically painted the interior side of the floor pans and sides of the body with the same color as the exterior panels.


The
most reliable place to find your original color
, unless the whole car has had a floor pan replacement, is on the sheet metal that rises over the rear axle. Often, it's never seen the light of day, and can provide you with the information you need to determine your 1968 Mustang paint color codes and figure out whether you have Sunlit gold, Spanish Gold or even Black Hills gold.
If all else fails, and you are able to get a paint chip from some of your original paint, take it down to the paint store. If they have the right book, you may be able to match it up with the samples.
If not, many distributors now have a digital camera like machine that scans your paint chip or other painted surface and compares it to a database to give you a match and a formula to mix some new paint.
Note: One thing I have learned using the digital scanner is that you may have the scan say that there is no match, simply because of the kind of paint you are using. For example, in my 1965 Mustang restoration, I wanted to go with a single stage paint, just like cars were painted back then. The problem was, that there was apparently no match for it.
I then had them check the same scan referenced to two stage paint (ie. basecoat/clearcoat) and guess what? They had a listing!
1968 Mustang Data Plate
If you have your original data plate, the process is much easier (assuming that the door and plate are original to the car). Simply find the code in the color section of the plate and match it up to the appropriate color on the chart.









And don't worry if your data plate is missing. Gather up the information you need for the boxes, from your fender vin number, axle ratio tag and visual observation (ie automatic, 4 speed standard, 3 speed standard transmission) and order up a brand new one, along with concours correct tap in rivets.
More Information
For full details on the 1968 model year, including styling changes, interior additions, specs, pictures and history, check out the 1968 Mustang section.
Other Year Pony car Paint Codes, Pictures and Data Plate Information:

1965

1966

1967

Return from 1968 Mustang Paint Colors to 1968 Mustang specs

Return to Ford Mustang