1968 Mustang
The 1968 Mustang was an important year for the classic Ford muscle car for many reasons, including some major changes in engine specifications and power.
The era of the compact sized muscle car was well under way and while Ford had originally led the pack with its introduction of the now famous


pony car at the World's Fair, other manufacturers, were biting at their heels.













General Motors, with high powered entries such as the Camaro, Firebird and Corvette knew a good thing when they saw it and kept the engineers at Ford very busy making sure that their pony car stayed on top.
Styling
The styling of the 68 car was a combination of refining the new from last year body style and the addition of federally mandated safety changes, including rear side marker lights.
And of course, the legendary
1968 Ford Mustang fastback continued to be a very popular choice for both enthusiasts, and Carrol Shelby's high performance Mustangs.
The Mustang grille was composed of rectangles, with a floating pony in the corral. Most other exterior changes were minor.


Engine
To fight the big block Camaro, Ford made sure that lots of power options were available and to complement the 390 cubic inch engines, which produced up to 335 horsepower, a new 428 cubic inch motor which they called the 428 Cobra Jet. This new motor pumped out a strong 360 hp in 1968 Mustang trim and could be modified very easily for more.
The option list also included a "smaller" 427 cubic inch V8 which just happened to make 390 horsepower. With the right equipment, this could be much higher, particularly with off the shelf parts from Ford's own parts department.
Interior
Changes for the interior were minor, trim changed very little, although a new collapsing steering column was added in Mustangs, as well as other cars of the day and was designed to have a crush zone to absorb some of the shock of a (possibly non seat belted ) driver in an impact.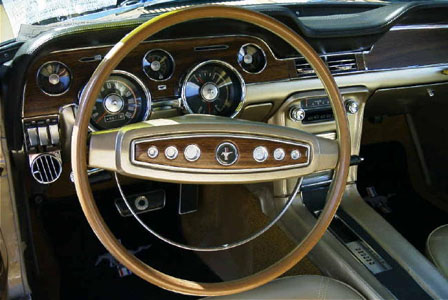 The "specials" for this year included the continuation of the GT as well as a California special, which Ford commissioned Carrol Shelby to create and looked like a Shelby Mustang from the back, with its familiar tail

lights and fiberglass rear quarter panel extensions that flowed into a spoiler attached to the fiberglass trunk lid, while the front of the car received different fog lights.
The side quarter panels received special scoops and a Chrome California special script logo. These cars were only available in coupe form.


The Bullitt Mustang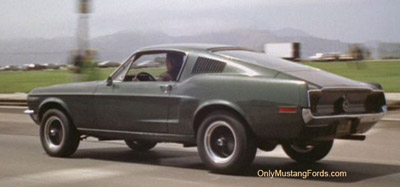 The 1968 movie Bullitt, garnered a lot of attention on the 1968 Mustang. Superstar Steve McQueen starred in the movie, featuring a specially prepared Ford Mustang equipped with a 390 cubic inch engine which was a big part of the movie's success, with a wild street chase.

Jump to Bullitt Mustang for more in depth information on all Mustang Bullitt cars.

Here's a link to more information on what to look for when finding and fitting replica Bullitt Wheels and tires on your favorite Ford.


1968 Shelby GT500KR King of the Road
Carrol Shelby was also busy making his mark on the public with the wild big block 428 powered GT500KR or king of the road. Click on this GT500KR link for more information and pictures of this Camaro crusher.
68 Mustang Parts
Need Parts? Click this link to jump to 1968 Mustang parts.

Return from 1968 Mustang to Classic Mustang

Return to Ford Mustang Home