1967 Mustang Colors - Paint Codes and Data Plate Decoding
1967 Mustang colors were a slightly expanded version of the 1966 Ford color codes,including many carryover colors from the previous year.
Several new paint codes appeared as previews to what would become widely available shades on the 1968 Mustang cars.



Ford Mustang Paint Colors Chart - PPG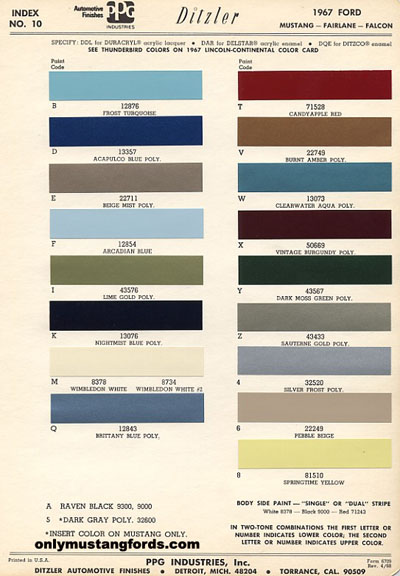 1967 Mustang Paint Codes
Here are the Basic 1967 Mustang Colors and Paint Codes:
Acapulco Blue D
Arcadian Blue F
Brittany Blue Q
Burnt Amber V
Candyapple Red T
Clearwater Aqua W
Dark Moss Green Y
Frost Turquoise B
Lime Gold I
Nightmist Blue K
Pebble Beige 6
Raven Black A
Sauterne Gold Z
Silver Frost 4
Springtime Yellow 8
Vintage Burgundy X
Wimbledon White M


No Data Plate Code and Special Colors: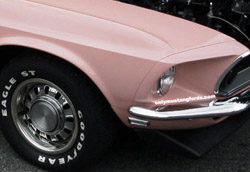 Dusk Rose aka Playboy Pink
One of the rare, but interesting 1967 Mustang colors, similar to the paint on the 1969 Mach 1 seen above, Ford's Dusk Rose paint, was often referred to as Playboy Pink, after Playboy Magazine's 1964 PLaymate of the year received one as a gift. It was also a available on the 1967 Thunderbird and made slightly deeper in color later, as seen on the Mach l.
Dusk Rose Code S

Colorado - High Country Special:
The limited edition high country special was available in Three non-standard colors, including Columbine Blue, Aspen Gold and Timberline Green.
Texas - Lone star Limited
Painted in Blue Bonnet, a non standard sky blue paint, Ford combined the new color with unique gold Texas shaped badges. The Mustang Lonestar limited, was created specifically for the Lone-star state giving Texas Ford dealers their own limited production special, like the Ford's Mustang "California Special" with a hope that it would help stimulate a sales year that got off to a rocky start.
White Paint Variations
Both of these "diamond" colors are tints of a basic white and unless seen side by side with a plain white or the Wimbledon White you may be hard pressed to tell the difference.
Diamond Green Code H - late 67 carried into 68
Diamond Blue Code N - late 67 carried into 68

Data Plate Decoding And No Data Plate Solutions









1967 Mustang Data Plate
If your door was replaced with another from an auto wrecker or other parts car, you may either have no data plate, or the wrong one on the drivers door making it difficult to figure out your 1967 Mustang colors.
That's OK. Chances are, you can still figure out what the original paint code and color was by doing a little digging in various parts of the car.
Fortunately, Ford sprayed a fairly large area of the inside of the car with the exterior color. As long as you have at least, some original floor pan or interior sheet metal, it's usually possible to find something painted in the factory original paint color.



If your car has had extensive floor pan replacement, then you may or may not be able to find the original color under the carpet beneath the foot areas or seat riser panel. Other places that you can check, which likely would never have seen a repaint job, are the transmission and differential area behind your back seats where the metal rises up over the rear end, flowing into the trunk area.
If your car is in no condition to get to the paint store, you might try to find some loose piece of painted sheet metal or maybe even pull off a paint chip to take to your auto parts or paint store, where you can compare it to factory color chip pages like you see above.
Paint Matching Alternatives:
If there's just no way to do it, then your only other alternative for matching paint at the paint store, is probably using your digital camera if you have one and take a picture of the color to see if you can match it up at the store.
Fortunately, there are not that many similar 1967 Mustang paint colors, so the job should be fairly easy to zero in on your original color.
No Original Colors
If there's just no way to find your original 1967 Mustang colors and at the very least, you want an originally available choice and a matching data plate there's still hope.
Just pick your favorite original color from the paint code chart above and buy your paint. Use the code number on the paint chart when you order a reproduction data plate and at least all the numbers match.
The other information and codes you'll need are your serial number, body code trim code, manufacture date, DSO (district sales office), axle ratio code and transmission codes. Most Mustang restoration parts suppliers have the ability to get one together for you on a special order basis and are in the $30 to $40 range at the time of this writing.
Add in the special rivets for another couple of bucks and boy does it look great!
Other Year Specifications and Codes
Check out the links below for other Ford Mustang model year colors and codes.

1965 Mustang Colors

1966 Mustang Paint



Return from 1967 Mustang colors to 1967 Ford Mustang

Return to Ford Mustang