The 5.0 Mustangs
Fast Cheap Mustang Performance
The 5.0 Mustangs were not instant icons when they first appeared in the new 1979 fox body platform, whose performance or the lack of it, had carried over from the earlier Mustang ll.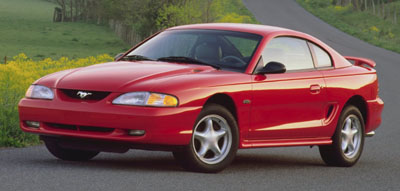 5.0 Mustang Performance
The rise of the 5.0 Mustang really started a few years later with the 1982 mustang and it's new 5.0 liter HO option, producing 157 horsepower.

The 1983 model year saw the Ford Mustang power increase again, using tried and true hot rod parts. With the addition of an aluminum intake and a big 4 barrel carburetor, output for the V8 jumped to 175 horsepower.
When the 1987 Ford Mustang appeared, changes in engine management and internal improvements bumped power to 225 horsepower.
These changes also allowed aftermarket performance parts makers to make both hard parts improvements and computer "tune" alterations which produced exotic car performance at budget prices.
The 1995 Mustang was the last year of the 5.0 Mustang but not it's popularity. If not cheap, at least reasonably priced used Mustang V8 powered cars continued to sell well, and still do.
The 5.0 still rules at local drag strips. With an output of 300-400 horsepower easily made with performance parts and over 500 horsepower from bolt on supercharger and nitrous oxide kits it's no wonder why.
Modular Engines
With the introduction of the 1996 Mustang came a new "modular" engine. Designed to meet new stringent emission standards, these new motors in performance terms, had breathing problems.
The new 4.6 could not be modified as easily and cheaply as the iconic five liter V8 and has made 1995 and older cars even more desirable.
2011 - Return of The 5.0 Liter Mustangs
But that's not the end of the 5.0 engine. There's an all new 5 liter V8 for the 2011 Mustang pumping out a wild 412 horsepower from its DOHC (dual overhead cam) engine. And you have to know, Ford's not done yet!
This new engine not only breathes better than the old modular engine, but revs freely up to it's 7,000 rpm redline!
These 2011 Mustang Videos say it all.
Future Mustang Performance
Ford already has plans for increasing performance of the new engine. While specs haven't been released, we do know that Ford Racing has been working with Shelby on a new supercharger for the 2011 engine and plans to make it available to Mustang enthusiasts in the future.
5.0 Links
Fox Body Mustangs 1979 - 1993

1994 Mustang

1995 Mustang

2011 Mustang V8 specs



Return from 5.0 Mustangs to Fox Body Mustangs

Return to Ford Mustang home