1983 Mustang
The 1983 Mustang in some ways,brought the biggest change in years. Not a new restyling, but a re-introduction.... of the convertible!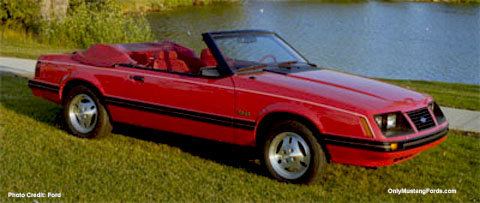 U.S. safety laws had all but killed the convertible for almost a decade. Would it be a success? The public voted with their wallets and 23,479 shiny new 1983 Mustang convertibles rolled off the showroom floors.
The much prized convertibles were only available as a Gt or GLX model.


Exterior changes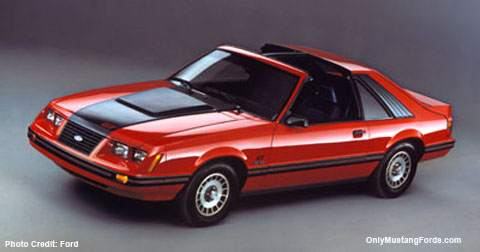 As usual, the front nose and bumper were restyled and the rear tail lights received a freshening up, including an updating to the tail lights. This was also the first year that the Ford Blue Oval logo took center stage on the front grille.
The new 1983 Mustang gt with its better looking nose and matched color grille also had a smoother, more modern molded lower bumper with a small integrated air dam.
The Ford boys must have had a party the night before they decided on a hood scoop for the GT, or they were just running out of ideas, because the new for 83 scoop looked a lot like an 82 scoop that was just turned backwards.
Engine and Power train
Engine
Engine choices for this model year were pretty much a carryover from 88, with the 2.3 liter inline 4 cylinder at an unchanged 88 horsepower. The turbo 2.3 liter 4 cylinder high output engine at 145 horsepower. V6 power consisted of a 3.8 liter engine putting out 112 hp.
The hot rod motor for the pony car was the 5.0 liter V8 which received a 4 barrel carburetor and aluminum intake manifold transplant, upping output to 175 hose power.
Powertrain/Transmission:
Available transmissions included the automatic transmission and the 4 speed standard transmission. The big news came later in the model year, when the now, super popular Borg Warner T-5 was made available, adding not just another gear, but allowing the closer spacing of the first 4 gears to improve responsiveness and accelleration.
Interior Changes
Minor trim changes were made for 1983. The GT was given a distinctive monochromatic interior, removing all the brightwork inside.


Cool Facts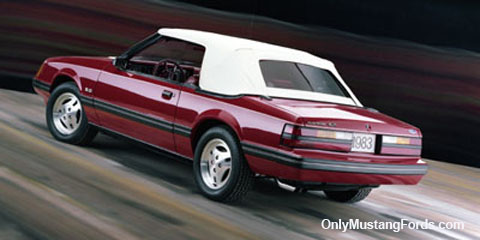 A GLX convertible was a one year only option and a total of 5,368 were sold.


Return to Fox Body Mustangs
Return from 1983 Mustang to Fox Body Mustang

Return to Ford Mustang Home