The 2012 Boss 302 In Vancouver
I just checked out the 2012 Boss 302 in Vancouver at the 2011 International auto show.



I was hoping to see the 2012 Mustang as well, but that was not to be. Not yet.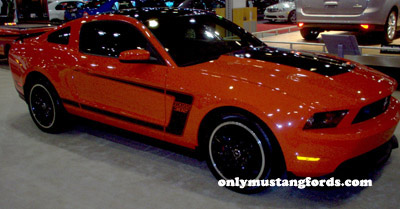 Ford still isn't showing the 2012 Mustang. But lets face it, the big news was to get a close up, first hand look at the new 2012 Ford Mustang Boss.
Exterior Styling
Understated, is what you see. Tight tolerances, and well put together is obvious. The front grille is interesting, in that it looks like it came directly from a Mustang GT with the fog lights popped out.
And the lower chin spoiler looks just right, which is more likely an afterthought, as this car was built to perform on the racetrack. It's a cross between a standard lower air dam and the exotic, adjustable one on the Laguna Seca model.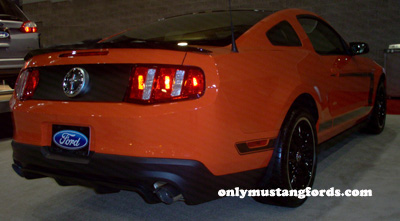 The 2012 Boss 302 in Vancouver I checked out, was in grabber orange paint..er, I mean Competition Orange, with the dark accent Boss 302 throwback stripes. And I have to say, that I hope it looks better outside in the sun, as it was not the best part of this exotic supercar.
Interior Styling
The dash detail at first glance, looks to be an imitation carbon fiber, but it's actually an engine turned design (rows of tight spirals from a wheel), but in black, rather than shiny steel.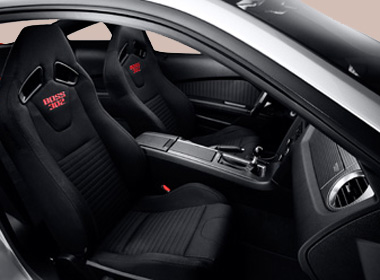 The seats, look very supportive, with a black fine weave cloth, and high side bolsters, guaranteed to hold you in your seat during those tight cornering maneuvers.
And whether you're looking in, or climbing into the car, the seat backs with the Boss 302 logo remind you, you're ride is going to be a blast!
Engine and Drivetrain Specs
For the full Mustang Boss specs, check out the 2012 Boss 302 section which includes all the details, as well as the Boss Track key which is a dealer installed option, that enables two completely separate computer "tunes" into the new Mustang Boss, at the flick of two different keys.
Advertised horsepower for the new Boss, is a conservatively rated 444 horsepower in the standard or 2012 Laguna Seca models. I say conservatively, as the 5.0 Coyote engine, is rated at 412 horsepower in the 2011 and 2012 Ford Mustangs, but 2011 coyote 5.0 liter V8 dyno results reveal that the stock engine is putting out more like 450 horsepower already. So it's going to be interesting to see exactly the 2012 Boss 302 dyno results.
Check Your Dealer
If you have a space in your garage for one of the best new performance cars, at any price, you'd better get down to your dealer and get your order in.
They won't last long!

Return to 2012 Boss 302

Return from 2012 Boss 302 in Vancouver to Ford Mustang