2012 Boss 302 Laguna Seca
The 2012 Boss 302 Laguna Seca is a fitting tribute to the original Parnelli Jones Boss 302 that won at Laguna Seca's 1970 Trans-AM season opener.


Compared to the 2012 Boss 302 Mustang, there's both, more and less.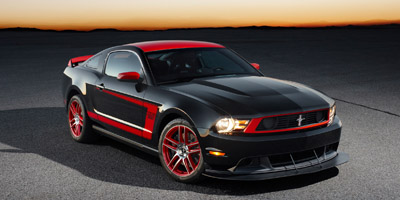 More chassis and aerodynamic work to make this car into a real race car and Less in the interior.
2012 Boss 302 Laguna Seca Specs
Like it's cousin the 2012 Mustang, the Boss features Unitized welded steel body and sports an aluminum hood.
The engine, produced at the Essex engine facility in Windsor, Ontario, is a high performance version of the 5.0 liter Ti-VCT, with its all aluminum block and heads.






















Redlining at 7,500 rpm, the engine puts out a prodigious 440 horsepower with 380 lbs of torque.
At 11:1 compression, the pony runs on 92 octane premium.

















The six speed manual transmission hooks up to the 3 link solid axle, limited slip rear end, with coil springs, Panhard bar and 25 mm stabilizer bar.
While a limited slip differential is standard, a torque-sensing (Torsen) limited-slip differential is also available for the hard core racer.
Traction control is specific to the Boss as well, with variable settings, ranging from fully engaged to an intermediate assist setting and completely off for racing. (or smoke shows?)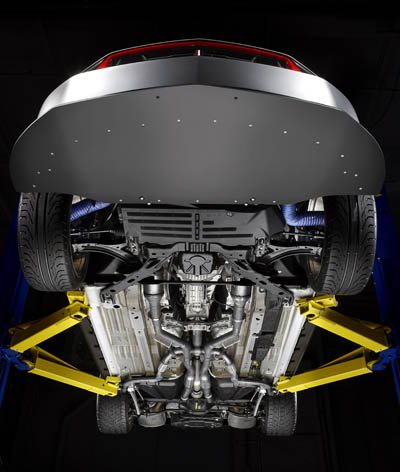 Shock damping is adjustable, just like you'd expect of a real race car. Don't like the one you're on now? There's four more settings to go.
Also, like a race car, you have to do it yourself, using a flat head screwdriver at each corner, which isn't bad considering some of the horror ($$$$) stories you hear about active suspensions as they age (ask me how I know....).
The steering, on the other hand, is an electronic marves, supplying 3 levels of road feel to maximize feedback on the track, yet not be annoying when cruising on the interstate.
Hauling the car down from some impressive speed, calls for big 14" x 36 mm vented discs, fitted with 4 piston Brembo floating calipers. The castings are made from aluminum, keeping the unsprung weight down and rapidly dissipating heat.
At the rear, you'll find 11.8 inch x 19 mm vented discs, coupled to single piston floating iron calipers. Oh, and did I mention that even the brake pad compound was designed specifically for the Boss?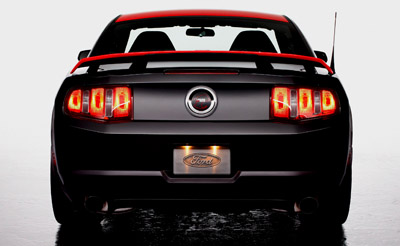 Getting that power to the ground are 255/40ZR-19 Pirelli PZero tires and 285/35ZR-19's mated to wide spoke painted alumimum wheels.
The fronts, being 9 inches wide and the rears are 9.5.
So how well does it all work? The 2012 Boss 302 Laguna Seca runs all the way up to 155 mph and corners at more than 1.0g !
Surprisingly, fuel economy is rated at 17/26 mpg. This just shows how good those new 5.0 liter Mustang engines are, when you consider that the car weighs in at 3,631 lbs.
Aerodynamics
The 2012 Boss 302 Laguna Seca borrows it's aerodynamic package almost directly from Ford Racing's Boss 302R.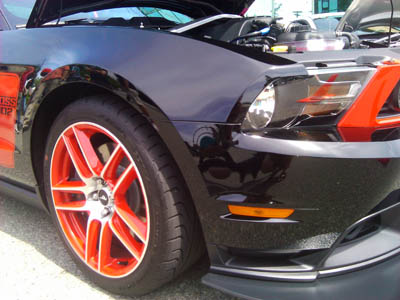 The design of the front and rear spoilers had to reduce lift without sacrificing gas mileage.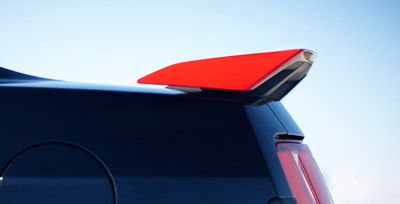 This includes a flat under pan and the design of the front spoiler/splitter engineered to manage the air to its best advantage.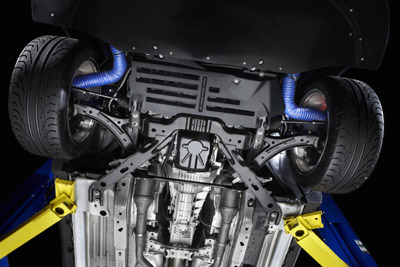 Interior Design and styling
LIke the 2012 Boss 302, the interior is very well put together and incorporates some very tasty and supportive Recaro buckets. Unlike it's brother, the rear seat is replaced with a bright painted cross brace.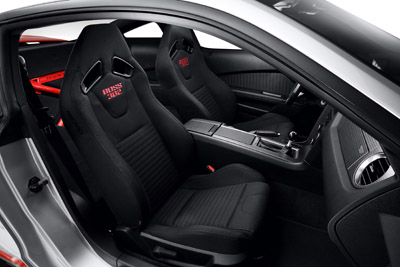 Eleven pounds of sound deadener was deleted to increase the "Boss sound Experience" and also reduces weight.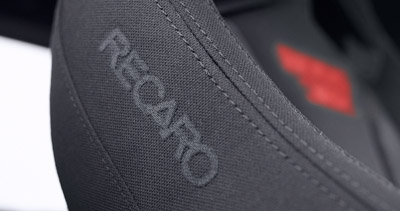 Exterior Styling
I'll let the pictures do the talking.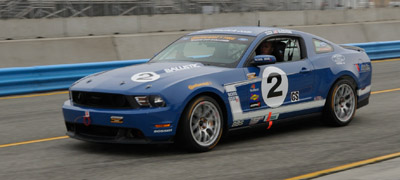 Exterior colors include Race Red, Performance White, Kona Blue Metallic, Yellow Blaze Tri-Coat Metallic and Competition Orange.
For more specifics, see the article on the standard 2012 Boss 302.