Mustang Challenge Pace Car Replicas For 50 Lucky Owners
Hurst has announced they will be selling a 50 car build of Mustang Challenge Pace Car Replicas.


If you're a fan of the Ford Racing Mustang Challenge, you may have already seen the cool looking 2010 Hurst/Austin Foundation Mustang Pace Car.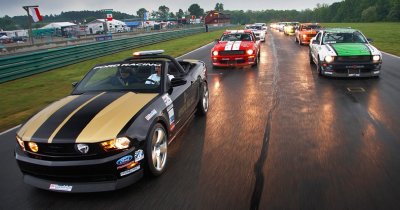 It made it's debut as the Official Pace Car for the series in at the season opener Ford Racing Mustang Challenge race on April 25 at the Virginia International Raceway.
The original car will be touring for the rest of 2010, including a stint at SEMA, and will ultimately be auctioned off to benefit the Austin Hatcher Foundation.
Austin Hatcher Foundation
The Austin Hatcher Foundation is named after little Austin Hatcher, whose life was drastically cut short by Pediatric Cancer at only 9 weeks old.
The foundation was started by his parents to support research towards the diagnoses, treatment and development of a cure for pediatric cancer.
It's also there to provide support and hope to the children and families undergoing treatment, as well as to those who have lost children due to cancer.
Hopefully, the sale will raise a ton of money for the foundation.
Hurst Will Produce Limited Production Replicas
Hurst announced that Pace car replicas are being produced and will be sold to 50 lucky individuals.
Special Pace Car Styling
Like other Hurst Performance cars, these limited production Mustang Challenge Pace Car Replicas feature the traditional gold racing stripes and gold official "Pace Car" logos on a black body.
Included in the package is a HURST Air-speed rear spoiler and some tasty all metal Hurst badges.
Performance
The performance is stunning, with it's supercharged modular engine, pumping out 540 horsepower, using a gleaming and polished Ford Racing supercharger, a stainless steel cat-back exhaust system and a K&N filter.
Suspension and Steering
As you'd expect, the steering and braking systems have been upgraded to work with the potent power train and include a Ford Racing Suspension, with larger brakes and calipers and some very cool 20" BF Goodrich g-Force T/A tires.
Interior Styling
No Hurst performance car comes without the iconic Hurst shifter. In this case, it's a 'Competition/Plus unit with a gold handle.
The interior also features a HURST leather interior with embroidered logos and contrasting top stitching.
Pricing
Pricing hasn't been announced, but previous cars have been in the neighborhood of $19,000 over the cost of the donor car. So we'll see. Maybe more with the supercharger.
Own One?
If you're thinking you might just like to be one of those lucky owners, you can call them at (949) 261-5500 to make an inquiry. So far, there's no information on their website.


Return from Mustang Challenge pace car replicas to 2010 Mustang

Return to Ford Mustang home