Mustang Car Cover - Part 2
Buying a good Mustang car cover never seriously entered my mind until I realized that if I wanted to start driving my freshly restored classic Ford Mustang on a regular basis, it needed to come out of the safe cover of my shop and into my parking spot.




That being said, after all that hard work and money invested, I wanted to make sure that the car and it's new paint, stays the same as when it left the shop for as long as I can make it. So that immediately made it a no tarp zone!
If you've decided it's time to look for a car cover for your classic or new Mustang and like me, wondered what the differences were, you now have at your fingertips, a good basis for comparison and review.
If so, this car cover review might just be what you're looking for. By the way, you'll also find links to other covers in car covers Part 1. including some cool stuff from Steve Saleen and ones designed for extreme weather.
What you'll find below, are not only some listings and pictures of covers that will fit Mustangs ranging from 1964 1/2 to the 2012 Mustang, but some background on what the different fabrics are designed to accomplish and what benefits you should see in the real world.
Highest Quality Mustang Car Covers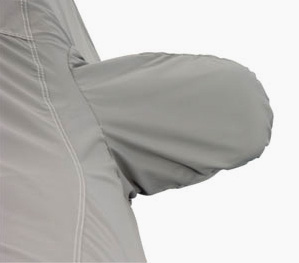 For the ultimate in protection you may want to consider the WeatherShield HD Cover
which is a custom ordered, extreme weather cover, that is built so well, it comes with a 5 year warranty.
This cool Mustang car cover is crafted to work in areas of intense heat and sun load and high humidity coastline areas.
The well constructed weathershield HD Mustang car cover allows none of the paint harmful UV rays to penetrate the material, in addition to repelling water, dust, sap and even pollutants, yet its still designed to breathe, which means that any moisture and heat trapped inside can escape befor it has a chance to do damage.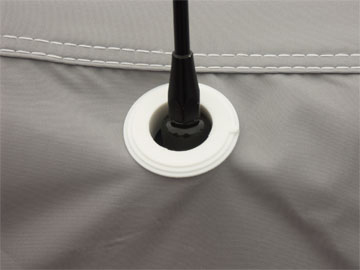 From owners of early pony cars, right up to 2010 Mustangs, the reviews have been extremely positive.

Form Meets Function
Show off the exquisite lines of your new or vintage Mustang with a high quality form fitting Mustang cover
from Covercraft.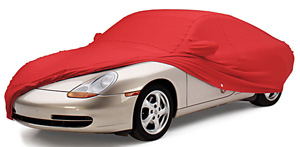 Yeah, I know the picture shows a Porsche, but it does give you a good idea of the nice fit you'll get on your pony car.
And it's not just designed specifically for your make and model of Ford MUstang, it's also constructed of very high quality Lycra/spandex (yes, really!). That's how it retains its form fitting shape over time.
The butter soft interior layer is a fine terry cloth loop material that actually offers protection from minor dings and scratches.
If the birds like it too much, just pop it into your home washing machine to Keep it looking great.
Medium to Better Quality Covers
Unlike cheap single layer covers, which don't do two different jobs well, these Silverguard plus covers have both, an inner and outer covering. The outer layer is made with a thick, strong polyester fabric and coated with a highly water resistant finish, that keeps out the sun and dirt, as well as the bad weather.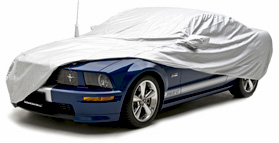 Not only that, but this fitted Ford Mustang Car Cover
adds the company's softest inner layer guarding your paint finish.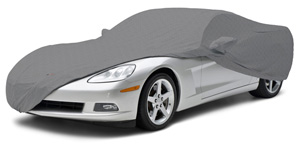 If you live near the coast like I do, the Mustang Coverbond 5 Car Cover
could be just what you need. It's named after the 5 separate layers that combine to make it one of the best bets for keeping the rain out.
Looks good on this Vette, but better on a Ford Mustang uh huh!
It also includes Coverking's softest inner layer, which is easy on the finish and all layers combine to help reduce minor dings and scratches. Like their other models, thanks to CAD/CAM engineering, your car cover is designed to perfectly fit your Mustang, from the very first 1964 1/2 Mustang to the newest 2012 Mustang.
Good Quality Lower Priced
Convertible Interior Car Cover
This is a cool idea! If you own a Mustang convertible like we do, here's a way to keep the inside of the car free of bird doo-doo and other flying debris, without having to cover up the entire car.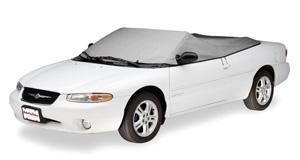 It's a Convertible Interior Cover
designed for the 1965-2006 Ford Mustang drop top.
Just like a full cover, it's water resistant, washable and helps keep out the harsh UV rays that attack your interior material colors and carpets.
Pretty cool huh ?
Stay Tuned - More to Come