Hawaii Five O Mustang
A Hawaii Five O Mustang ? Back from the 60's is the new series Hawaii Five-O and features a brand new 2011 Mustang GT 5.0. Or does it?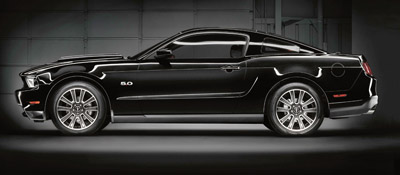 Well, as it happens, that cool new 2011 Mustang 5.0 driven by character Dan "Danno" Williams (played by Scott Caan) is actually a sheep in wolf's clothing.
Filming for the new Hawaii Five O started was shot in Oahu in early March 2010, which unfortunately was prior to the release of the new 2012 Mustang.
At the time of filming, a 2010 Mustang V6 was all that was available on the island, so it was re-badged to look like a new 2011 Mustang GT.
The Pilot
Steve McGarrett, a decorated Naval officer, returns to Hawaii to find his father's murderer and exact justice....
Stalled, trying to find out what happened on his own, he's recruited by the Governor, a friend of his father, to head up an elite new police task force. The first mission ? Catch his father's killer.
But this force follows his rules, has her full backing and there's no red tape.
Ya gotta love it!
Ford's Hawaii Five-O heritage
Ford Motor Company cars featured prominently in the original series (1968 to 1980) and Ford is again the official supplier of cars in the new TV series.
I'm sure they couldn't miss an opportunity to feature the car in the new show. A 5.0 in Five-O ? Oh yeah!
However, more like the other TV cop show of the 70's Starsky and Hutch, everything is not all full sized Ford and Mercury sedans. (Remember the Grand Tomato ? , I mean Grand Torino).
And just like Starsky's 4 speed that was clearly an automatic, Hollywood magic changes the quiet of the V6, into the sound of a healthy V8 gurgle.




Hawaii Five O Mustang Video
Here's the official trailer for the new series with some shots of the new Mustang.




Check it Out
Watch Alex O'Loughlin (Steve McGarret) and Scott Caan (Danno Williams)in the new Hawaii Five-O Mondays at 10 pm eastern/9pm central and see if you can spot the differences.


Return from Hawaii Five O Mustang to 2011 Mustang

Return to 2010 Mustang

Return to Ford Mustang