2011 Mustang Pace Car Limited Run
Ford will produce a 2011 Mustang Pace Car Limited Run. Very Limited as a matter of fact.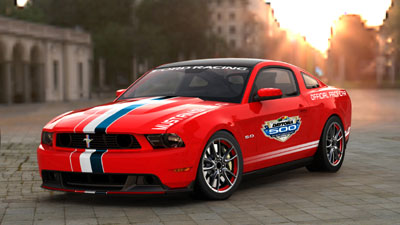 Ford originally reported that the 2011 Ford Mustang Indy 500 Pace Car would be a "one off" car, strictly designed to pace the Indy.
Well, that's about to change...sort of. Yes they are going to produce more 2011 Indy Pace Car replicas, but production has been set at 50 cars.
No word yet on where these very rare cars will go. So stay tuned!
Engine and Power Train
Since the 2011 Ford Mustang Pace Car Limited Run is based on the original pace car, and the car starts life as a 5.0 liter Mustang GT, I expect that the limited run cars will be as well.
And that's a good thing, because the 2011 Ford Mustang GT will be equipped with that sweet new aluminum DOHC V8 with a 7,000 rpm redline and 412 horsepower on tap.
So if you have a VERY good connection at Ford, now is the time to make that call.


** NEW ** Mustang 5.0 Fever Sweepstakes
Want to win a brand new customized 2011 Ford Mustang GT with its awesome 412 horsepower coyote V8? Don't miss this! Here's a link to all the details of the Mustang 5.0 Fever Sweepstakes and how to enter.

Return to 2011 Mustang from 2011 Mustang Pace Car Limited Run

Return to 2011 Mustang Pace Car

Return to Ford Mustang Home