The 2010 Ford Shelby GT500
If you thought last year's model was great, the 2010 Ford Shelby GT500 is even more amazing.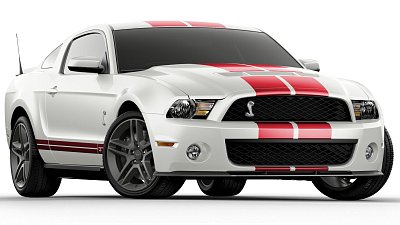 Shelby used the performance gains from work on the 40th anniversary edition Shelby GT500KR "King of the Road" Mustang as the starting point for improvements to the 2010 Ford Shelby GT500.


Shelby GT500 Engine and Powertrain
Its 5.4 liter dual overhead cam V8 increases to 540 hp and 510 pounds of torque, an improvement of 40 horsepower.
Shelby points to the use of a new cold air intake, which creates horsepower and increases efficiency of the Shelby GT500.
While the overall axle ratio, is actually lower (numerically higher) than the 2009 GT500, the gear ratios have been revamped to lower rpms and increase gas mileage. Work was done on the shift linkage as well to ensure short throws and crisp shifting.
Fuel economy is improved as well. The the 2010 Shelby GT500 is approximately 2 miles per gallon more fuel efficient on the highway.


Exterior Changes
Exterior features include a new hood extractor to remove heat from the engine.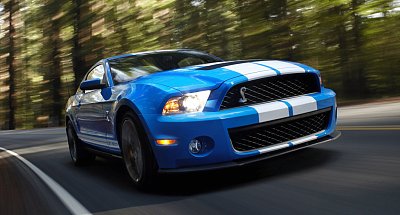 New 19-inch Goodyear F1 Supercar tires and forged aluminum wheels are included on the coupe, while 18" rims will be standard on the convertible.
























Work was done at the front and rear of the car to improve downforce and reduce drag, using a new front fascia and a redesigned lower grille to port air to the supercharger's intercooler.
Much time was also taken to ensure air entering the engine compartment was directed to the accessories and not lost under the car, which would affect aerodynamics and cooling.
A "flush hood" design where the fascia becomes the front of the car was chosen to differentiate the Ford Mustang shape from the new 2010 Shelby GT500.
Like the Shelbys of old, the requisite racing stripes will make a comeback.
Interior Changes and Refinements
Like the standard 2010 Mustang GT, the Shelby has the new softer TPO dash materials which have been redesigned to incorporate the genuine aluminum instrument panel, and Satin liquid chrome accents on the gauge rings and other accents.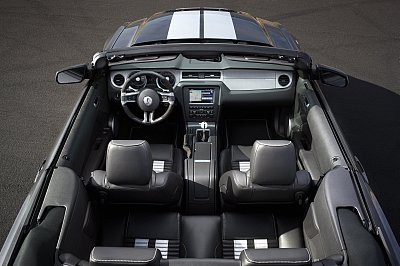 The seats received their own Shelby Mustang treatments, including Alcantara inserts on the seats and steering wheel.
And when you see one in person, as I did not long ago, the pictures and specs don't do it justice. It's an awesome looking and performing car and sure to become a collectible.


** NEW ** Mustang 5.0 Fever Sweepstakes
Want to win a brand new customized 2011 Ford Mustang GT with its awesome 412 horsepower V8? Don't miss this! Here's a link to all the details of the Mustang 5.0 Fever Sweepstakes and how to enter.

Return from 2010 Ford Shelby GT500 to Shelby Mustang



Return to 2010 Mustang

Return to Ford Mustang home.