The 2001 Mustang
The 2001 Mustang was again a carryover from the 2000 model, but since the last major redesign was carried out in 1999, the overall look remained fresh.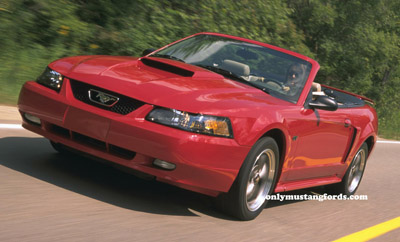 This was also the year that the Mustang Cobra came back from its one year hiatus. Quality issues during 1999 caused Ford to discontinue it in the past year.
Overall sales dropped by some 60,000 cars to just over 155,000.
Ford also revived the Bullitt Mustang which was made famous in the 1968 Steve McQueen movie Bullitt which in my opinion was one of those iconic car chase classics, that spawned generations of movie and tv imitations.
The original Bullitt, was a Highland Green 1968 Mustang GT fastback ( in fact there were 2 identical cars used in the production ),equipped with the black deluxe interior, GT package woodgrain dash and an overhead console.

It also featured a 390 cubic inch V8 and for the proper looks and traction, the stock wheels and tires were swapped for some Muscle car appropriate, American Racing Torque Thrust wheels and some GR70's for rubber.
The 2001 Ford Mustang Bullitt , revived the basic look and feel with its dark Highland Green paint, and throw back American look alike mag wheels. Unlike the movie car, it was also made available in black and true blue.
Exerior Changes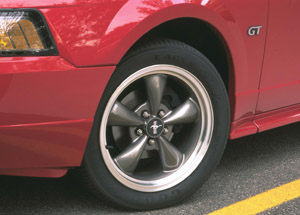 Exterior changes to the 2001 pony car, were limited to those differentiating the various styling packages.
The base Mustang and convertible saw no change, but the Cobra now proudly wore its name deeply engraved into the rear bumper.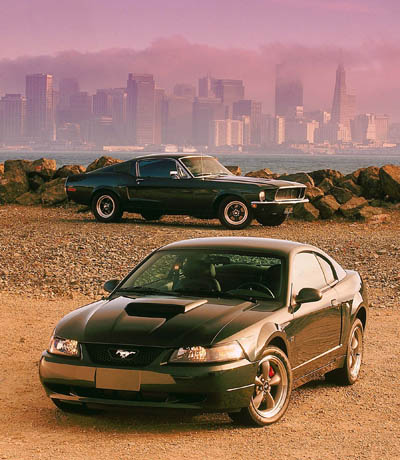 The Bullitt had its own unique features, to make sure that you weren't just looking at a plain Jane GT.
From the rear, the car had its own distinctive rounded twin exhaust cut outs, reminiscent of early Shelby cars.
The front grille featured a Mustang pony logo with a blacked out corral and a very low key front bumper with no fog lights.
Looking into the wheel spokes, you see some bright red Brembo calipers with a mustang pony logo.
Even the door sill featured a chrome detail strip with "Bullitt" etched into the metal.
Modified side scoops gave you no doubt that this was no grocery getter mustang.
Bullitts also received a lowered suspension and re valved shocks for better performance and a more stable ride.
Oh, and I almost forgot, a very cool race style aluminum filler door.
Not to be left out, the Cobra also had its name engraved deeply into the rear bumper.
Interior Changes
As usual in Ford Mustang production, changes to the standard interiors were minimal.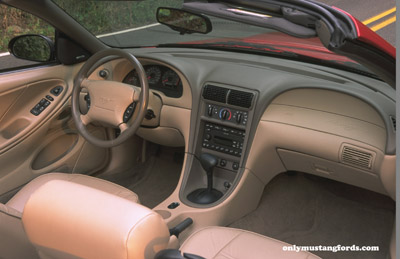 The Bullitt, seemed to be where all the money was spent and also featured styling cues reminiscent of the 1968 movie car.
Changes in the interior parts included aluminum gas, brake and clutch pedals along with an aluminum shifter nob and classic looking round gauges with a 150 mph speedometer and a tach that redlined at 5,800 rpm.
Engine and Power Train
The base 3.8 liter V6 was further tweaked to produce another 3 horse power, now up to 193.
All the V8 offerings were looking good. Whereas the popular 5.0 liter V8 hovered around 215 to 225 horsepower, the new modular 4.6 liter V8 started out with 260 hp in standard form and grew to 265 horse power in the Bullitt and an even higher 320 hp in the 2001 Mustang Cobra.
2001 Mustang GT
Here's more details on the 2001 Mustang GT.


Cool Facts:
To put things into perspective, a stock 1968 GT 390 engine produced 265 horsepower, which is identical to the 2001 Mustang Bullitt's output.
Quarter mile times for the new ones are in the neighborhood of 14.3 seconds at around 100 mph, while an original gt390 ran around 15.0 seconds in the quarter mile at about 95 mph.

Return from 2001 Mustang to Fourth Generation Mustang

Return to Ford Mustang Home