The 2001 Mustang GT
While the 2001 Mustang GT may have missed out on the kind of media attention that followed the Bullitt and the Ford Musang Cobra, 2001 was a good year for the GT.



In a word, refinement, was the focus for the 2001 Ford Mustang GT. Ford's work was particularly evident in the suspension and ride department and made for a driving experience that was confidence inspiring.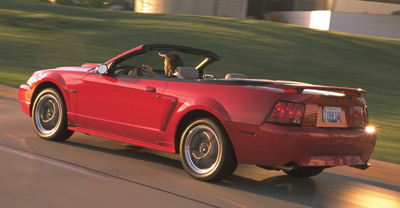 Exterior Changes:
The Gt was identified by its recessed hood, flowing into a wide hood scoop. From the side, it's GT badges. At the rear, the standard embossed Mustang lettering in the rear valance was accompanied by twin exhaust cutouts and a chrome GT logo mounted near the license plate area.
The GT also featured some nice looking five spoke alloy wheels.
01 Mustang GT Engine and Drivetrain
The Ford Mustang GT premium and standard editions, as well as the convertible equipped cars, were powered by the SOHC (single overhead cam) 4.6 liter engine, producing 260 horsepower and a substantial 302 lbs of torque.
With a curb weight of just over 3,400 lbs for the coupe it was capable of quarter mile times in the mid 14 seconds.
Top speed was rated at 140 mph.
By comparison, the 2001 Mustang Bullitt , with additional massaging to the engine managed only 5 horsepower more than the GT.


Mustang GT Fuel Economy
Fuel economy, for and engine with this kind of power was actually reasonable, at 18 mpg city and 25 mpg on the highway.



Return from 2001 Mustang GT to 2001 Mustang

Return to Ford Mustang

Return to Fourth Generation Mustang