1971 Mustang VIN Decoder
Use the following 1971 Mustang VIN Decoder to identify the year, model and engine choice in your vehicle.



The Vehicle Identification Number or VIN can be found by looking through the lower portion of the windshield on the drivers side of the car.
It is a small metal plate that's stamped with alpha numerical codes.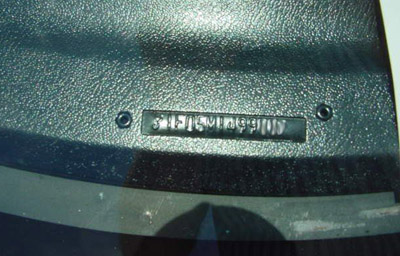 Example Vehicle Identification Number
In the example above, our serial number is: 1FO5M149901
Using the VIN decoder, the first number from the left (1) IS the last digit of the year your Ford Mustang was manufactured (1971).
The second position (F) tells us that the assembly plant was Dearborn Michigan.
The third and fourth positions (05) denote a Mach 1
And the fifth position (M) tells you that you would have a 351 cubic inch V8 engine (Cobra Jet) with a 4 barrel carburetor which produced 280 horsepower.
1971 Mustang Engine code/Engine
L - 250ci 2 barrel I-6 with 145hp
F - 302ci 2 barrel V-8 with 210hp
H - 351ci 2 barrel V-8 with 240hp
M - 351ci 4 barrel V-8 with 280hp/285hp (Cobra Jet)
R - 351ci 4 barrel V-8 with 330hp (Boss 351)
C - 429ci 4 barrel V-8 with 370hp (Cobra Jet)
J - 429ci 4 barrel V-8 with 375hp (Cobra Jet-R)
Vehicle Identification Number
(Example: 1FO5H100001)
1 Last digit of Model Year (1971)
F Assembly Plant (F-Dearborn, T-Metuchen)
05 Body Style (01-coupe, 02-fastback, 03-convertible, 04-grande, 05-mach 1)
H Engine Code
100001 Consecutive unit number

Return from 1971 Mustang VIN Decoder to 1971 Mustang

Return to Ford Mustang