1971 Mustang VIN Decoder
The 1971 Mustang VIN Decoder is a great tool for Mustang restoration and identification, when searching for your perfect pony car.
Its handy when trying to find out whether or not you have a true "numbers matching car", meaning that your vehicle has, if not the original parts that came with the car when it was manufactured, at least pieces that would have been made when your car rolled off the assembly line.


You can use it to identify and verify the year, model and engine choice in your vehicle, which can then be checked against the parts now on the car.
Your Vehicle Identification Number or VIN can be found by looking through the lower portion of the windshield on the drivers side of the car. It is a small metal plate that's stamped with alpha numerical codes.
And it is those numerical and alphabetical codes which allow you to decode exactly what equipment was on the car at the time of manufacture and even where in the country or world it was shipped to for delivery to the local Ford dealership.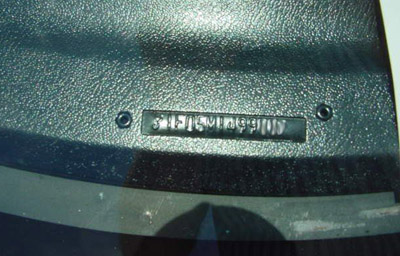 Example Vehicle Identification Number
In the example above, our serial number is: 1FO5M149901
Using the 1971 Mustang VIN decoder, the first number from the left (1) IS the last digit of the year your Ford Mustang was manufactured (1971).
The second position (F) tells us that the assembly plant was Dearborn Michigan.
The third and fourth positions (05) denote a Mach 1
And the fifth position (M) tells you that you would have a 351 cubic inch V8 engine (Cobra Jet) with a 4 barrel carburetor which produced 280 horsepower.
1971 Mustang Engine code/Engine
L - 250ci 2 barrel I-6 with 145hp
F - 302ci 2 barrel V-8 with 210hp
H - 351ci 2 barrel V-8 with 240hp
M - 351ci 4 barrel V-8 with 280hp/285hp (Cobra Jet)
R - 351ci 4 barrel V-8 with 330hp (Boss 351)
C - 429ci 4 barrel V-8 with 370hp (Cobra Jet)
J - 429ci 4 barrel V-8 with 375hp (Cobra Jet-R)
Vehicle Identification Number
(Example: 1FO5H100001)
1 Last digit of Model Year (1971)
F Assembly Plant (F-Dearborn, T-Metuchen)
05 Body Style (01-coupe, 02-fastback, 03-convertible, 04-grande, 05-mach 1)
H Engine Code
100001 Consecutive unit number


Comparison With Parts On The Car
Here's where the rubber meets the road. Use the information provided by the 1971 Mustang VIN decoder and make a list of the standard equipment listed. Then you can one by one find the parts and verify that they are or are not the correct ones for your car.

For example, when I found my 1970 Mustang fastback, it came with an engine. From the data plate and VIN codes I was supposed to have a 302 cubic inch engine and sure enough the block was stamped "302" so I did indeed have the right size motor.

Looking closely at the stamping or casting numbers on the block, however, it turned out that it was a 1968 block.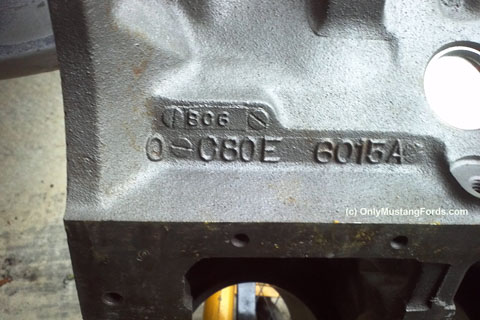 Great for a daily or weekend driver, but if I wanted a numbers matching car suitable for shows and judging, I would need to find one that was produced for the 1970 Ford model year and one that was offered in that car. Ford made a number of different engines whose specifications differed slightly depending on the application and that can be an issue.
And in the case of a 1971 Mustang, VIN decoder information can specify a 351 cubic inch Cleveland engine, but two standard Cleveland engines were available, a 2 barrel model and a 4 barrel carburetor model which had entirely different cylinder heads, intake manifolds and of course carburetors.
Good things to know. So use these codes to first identify what you should have and then check the parts against their casting numbers to verify exactly what you do have.

Return from 1971 Mustang VIN Decoder to 1971 Mustang

Return to Ford Mustang