1969 Mustang S Code 390
by Shuey
(Pittsburgh, Pa)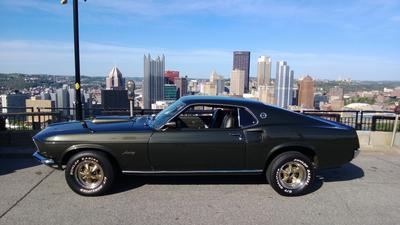 Pittsburgh November 2013
1969 Mustang S Code 390
Bought it 1981 while in high school. Still have it. Fresh rebuild 390 1996 and restored the paint in 1991. C6 automatic and will light the tire up on a rolling start at 25 mph.
Hey Shuey!
Your big block Mustang is a great looking car. Nothing like the torque of a big block for a kick in the pants at the nearest red light.
The raised white lettering and gold inner spokes on your mags really bring back the flavor and style of the classic fastback (sportsroof) Ford Mustang.
Looks like your car has the Optional Exterior Appearance Group, which would have included rocker panel moldings, wheelwell and rear end moldings.
What modifications have you done to the engine when you did the rebuild to get that kind of power? My 390 car literally jumped when you hit the throttle after I replaced the factory 4 barrel carb with a Holley. (I thought the engine was just getting tired until I changed carburetors- boy was I wrong!)
Great Car!
B.
Return from 1969 Mustang S Code 390 to Ford Mustang Home