1968 Mustang Parts
For 1968 Mustang parts changes were varied. After a major restyling, body parts, engine choices and many small items were changed.
Although at a glance, these classic Mustangs looked almost the same as their early brothers, improvements and size increases added new parts to the mix.


Although the focus of this section, is primarily new parts for restoration or rebuilding and cool stuff to dress up or improve performance, remember that used parts for some applications of your 68 Mustang rebuilding project, can be a bonus.
Tires
We don't always think of tires,when we think of parts for our pony cars, but finding the right size and width in a modern tire to match the oem sizes are important if you are restoring your car to look original.
The tires from the Ford factory in 1968 included the Firestone wide oval and the Goodyear Polyglas tires.
For 1968 cars, I'd recommend something along the lines of between a 195/78/14 and a 205/78/14. These sizes approximate the original width and profiles. The perfect gift for any auto enthusiast: The perfect gift for any auto enthusiast: A gift certificate from Tire Rack.
Particularly nice if that special someone is facing snowy, frozen conditions or wet winter monsoons (like where I live).
Cool stuff for the 1968 Mustang
Lambo Doors anyone?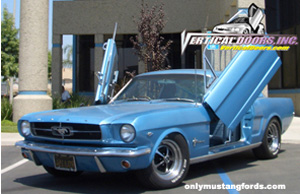 Replacement 1968 Mustang parts
Engine:
Replacement engines and rebuilding parts are common things you'll need in your restoration project.
In my case, I had the original intake manifold and a parts missing original carb.
So it seemed a good time to upgrade to a new edelbrock manifold and a Holley 600 cfm carburetor. Then I realized that as soon as the old intake came off, a new gasket was going to be needed for the new intake and a new carb gasket, and linkage adapter to make the new 4 barrel carburetor adapt to the original throttle linkage!
Oh well, if I hadn't wanted a project car, I'd have been paying someone for the privilege of buying and installing them any way.

Return from 1968 Mustang Parts to 1968 Mustang

Return to Ford Mustang from 1968 Mustang Parts