1964 Mustang - A Ford Legend
The 1964 Mustang made its official debut to a very enthusiastic public in North America on April 17, 1964.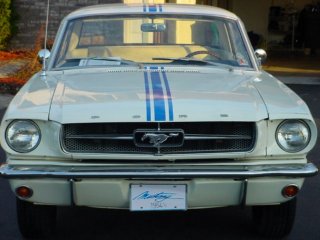 Also known by enthusiasts and restorers as the 1964 1/2 Ford Mustang, these early cars were produced between March 9 and July 31 of 1964.


Unlike later Ford Mustang cars
, including all vehicles produced later in the 1965 model year whether they were a coupe, convertible or the late year addition of the fastback,they carried over many parts directly from the Ford Falcon, including its generator.
As production continued, and success seemed inevitable, improvements and
ongoing evolutionary changes
were made to the new pony car to improve it and further remove it from its more humble grocery getter roots.
How to Identify a 1964 1/2 Mustang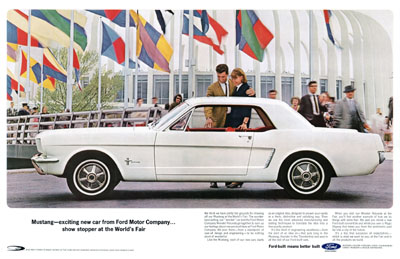 There were a number of differences between the early 1964 Mustang cars, which are in fact just very early production 1965 vehicles and the ones produced later that year beyond the addition of a generator based charging system, compared to the later alternator driven systems.
Engine choices:
One of my owners manuals, says the choices of engine were, a 170 cubic inch inline 6 cylinder, requiring Regular gas, which at that time was at least 92 octane (sigh... ah for the good days! )
Choice 2, was a 260 cubic inch 4V V8, producing 210 horsepower and required 92 octane or better regular gas.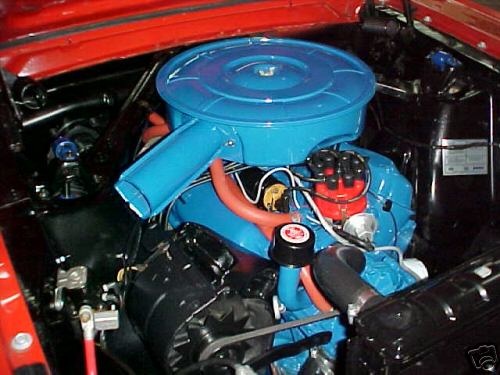 The third choice was a 289 cubic inch High Performance V8, producing 271 horsepower and required Premium fuel with a minimum of 100 octane, now popularly known as a "K Code" engine, which was identified externally by the letter K in the engine slot in it's vin code (vehicle identification number).
This particular engine in the early built 1964 Mustang cars could also be identified more specifically by it's block casting numbers of C4OE-6015-f as well as stamping of it's vin code directly onto a relief at the bottom of the engine, near the oil pan.
All three options were available in the 1964 Mustang,with an available 3 speed or 4 speed manual transmission or Ford's Cruise O matic transmissions.
Important Note:
Regular gasoline is now 87 octane, not 92 as it was in 1965, which can mean pinging and timing issues can happen on what was not technically a high compression engine. As well, the elimination of lead from the gasoline not only reduced octane, it removed some valuable lubrication from the valves. When rebuilding, it is recommended that hardened valves be used to prevent premature wear.
Engine compartment: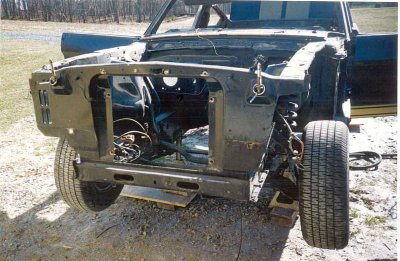 Battery louvers:
The battery actually didn't have the louvers, they were cut out on the passenger side radiator mount, to allow air to cool the battery.

Generator
The use of a generator on these early 1964 Mustang cars tended to make the batteries run hot. And that's what made these louvers a necessity.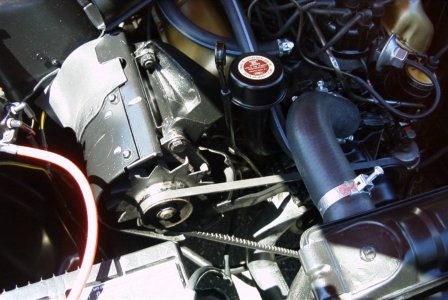 Voltage Regulator: A large separate voltage regulator, similar to that mounted on the Thunderbirds of that vintage, was mounted on the engine side of the radiator mount on the driver's side.
Due to some differences in the charging systems, a slightly different charging circuit wiring harness was required. So if you have a 1964 1/2 Mustang, or a 1965 car with some carryover parts, like many in that transition period do, you'll find that you may need to refer to a Ford Falcon or Fairlane wiring diagram in order to track down charging circuit issues.
That's because most if not all Ford and aftermarket repair manuals for these cars do not include a schematic for the generator cars.
Distributor:
Early Mustang distributors had the familiar little oil wick, seen on other Autolite pieces of the time again including the T-Bird.
Power steering pumps: Cars with power brakes had either an inner fender well mounting or an integral canister and were manufactured by Eaton.

Ignition Coil Location on the Intake Manifold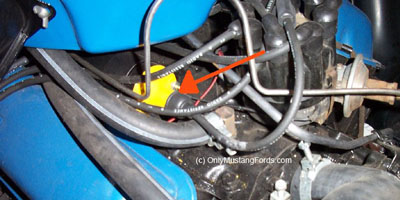 Horns:
Early cars had large horns, which were attached to the lower frame, engine side, near the radiator mount, while later Mustangs have 2 smaller horns bolted onto the outer front of the rad mount.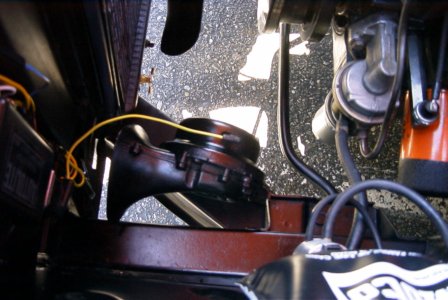 Available body styles:
Two styles were offered, the standard coupe body and the convertible. There were no fastback Mustangs at this point.
Under Car Differences:
Brakes:
The early 1964 Mustang cars used a pressure switch mounted to the front top of the master cylinder housing. Restorers will note that most replacement aftermarket parts companies, supplying a master cylinder for the 1964 1/2 and the 1965 versions manufacture a generic model, that has a top outlet which is capped so that it can be used for any car of that model year.
Mustang Exterior Identification:
Hood:
The early hoods were straight cut at their front outer edges, which made it necessary for reinforcements to be added below the top edges.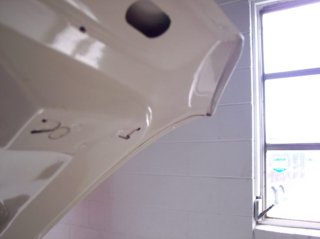 Hood Hinges:
These were painted black in early cars.
Headlight buckets: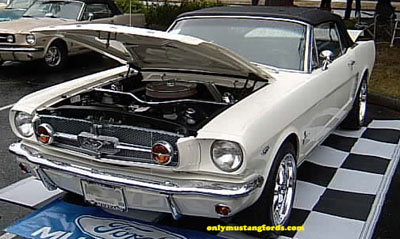 As a result of the reinforcements to the hood, the Mustang's headlight buckets had a relief or notch in them to prevent interference.
Gas Cap:
1964 1/2 Mustangs had screw off gas caps at the rear with the famous pony logo cover. Although I've been told that only the later cars, which are considered to be 1965's have a wire rope ring and pivoting attachment that make them theft proof, I've come across one just recently that is from a true 1964 1/2 and had the later wire loop attachment.
Tail light connections:
These cars used standard pigtails.
Interior Styling and Differences for 1964 1/2 Cars
Carpeting:
Early cars have carpeting, which do not reach and tuck under the trim at the door sill. An interior matching vinyl was used to bridge the gap between the two parts.
Interior Air flow nobs: Most 1964 1/2 mustangs have a letter "A" cast into them. I say most, because I've seen a few without them.
Instrument Cluster
Since these classic pony cars have a generator, not an alternator, the plastic lens located behind the camera case black and chromed instrument bezel will show a small red "Gen" light, instead of an "Alt" light when the key is just turned on, or the car is not charging.
Miscellaneous:
The trunk spare tire rod was located in a removable slot.


Finding Cheap Insurance for your Classic.
See the classic car insurance guide.


Recent 1964 1/2 Ford Mustang Technical Questions
Here's a recent visitor's question and some answers on how to solve his 64 1/2 Mustang's electrical problems.
Early Mustang Parts
Find specific applications and other information for 1964 Pony Car parts here .
Your Mustang Restoration Project
Whether it's finished or just started - we'd like to see and hear about it.
Links to Other's Restoration Projects
Click below to see contributions from other visitors to this page...



Return from 1964 Mustang back to Classic Mustang

Return from 1964 Mustang to the Ford Mustang Home Page .