Used Mustang Books
Used Mustang Books? Sure why not?
I recently picked up a 1965 shop manual, that as far as I can tell only meant that it had passed someone else's wallet before I got my hands on it.
But the local used bookstore is not the place you're likely to find any used Mustang books. No problem, cause here's some nice ones to check out. Naturally they're going to be at the right price too.
Not only that, but there's an opportunity to find a really good edition of a book that maybe you've been looking for, but it's now out of print.
Whatever your reason, some of these titles just might be the ones you need.



Mustang 5.0 Performance Projects (Motorbooks Workshop)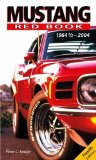 Mustang Red Book






Mustang Restoration Handbook






Mustang Special Editions






Ford Mustang Buyer's And Restoration Guide






Project Mustang






Ford Mustang II, 1974-1978 (Haynes Manuals)






High-Performance Mustang Builder's Guide 1994-2004





Chilton Manual for 1994-2004 Ford Mustang





Note: If you prefer new, several of these and others are available on the new Mustang books page.

Go Back to the ford mustang books section.

Jump to the new Ford Mustang books



Return to Ford Mustang Home