Mustang ll "Hell-anor II" Project
by Tony Hall
(Port Coquitlam BC)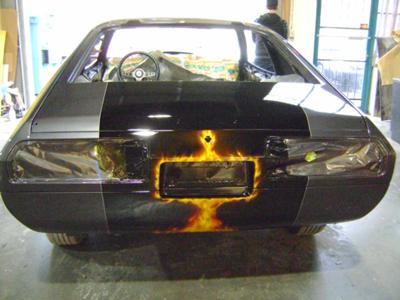 Mustang ll Hell-anor Paint Detail
Comment:


I was reading some of the info on your site and noticed a couple of my cars pictured. The
1978 Mustang Monroe Handler
(now sold), and the 1978 Yellow King Cobra(my wife's).
I wanted to let you know that the latest "Project" at the shop is called "Hell-anor II" I have sent over a few pics of the car with no drivetrain or wheels which will go on soon.
Should be ready by Summer.
Regards
Tony
Answer:
Hey Tony! Great to hear from you again. Another great project from the Forgottenponyshop will ensure that the "little Mustang" is
never
forgotten.
I can't imagine how many hours you must have into the paint on your new Mustang 11.
Update us with some more pictures as your build-up progresses. Looking forward to seeing it this summer.
B.
Return from Mustang ll Hell-anor project to Ford Mustang home