Magic City Mustangs Car Club
Miami FL.
by Frank Alonso
(Miami FL.)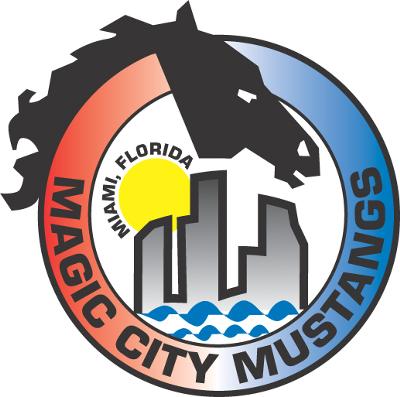 Magic City Mustangs Car Club was formed in 1992 by a group of Mustang enthusiasts to provide a medium for the exchange of ideas and information about the care and maintenance of Americas first pony cars.


The Club has evolved from friendships into a large group of people of all ages who are dedicated to the enjoyment of the Ford Mustang, as well as to all other High Performance FORDS.
We welcome ALL Mustangs and appreciate involvement and membership of owners with any Antique, Classic, or High Performance FORD car or Truck.
We participate in many events, such as Car Shows, Road Trips, Picnics, Sanctioned Racing and Fund Raising Events throughout the year. If you would like to become involved in any of the mentioned events, then we may be the group for you.
We have traveled as far as North Carolina, Connecticut and Atlanta for Car Shows and to race our Mustangs (Both Drag and Road Race).
We have traveled as far as Nebraska to have our Mustangs modified. We have Christmas Parties; take drives down to the Keys and other places, etc.
Our members range in ages 17-75 yrs of age, Male & Female, and our cars range from full concourse restored classics to fully modified drag race cars, from daily driven to rarely driven, from perfect condition to Not So Perfect.
If you would like to join us in a FAMILY atmosphere, then contact us or attend one of our meetings. Meetings are held every Tuesday of each month at 8:15 p.m. to 9:30 p.m.
We meet at the Floridita Seafood Restaurant Located in 13501 SW 136 street Miami FL.
On the Second Tuesday of the month from 7:00 p.m to 9:00 p.m we meet at Gus Machado Ford of Kendall Located at 15551 South Dixie Hwy. Miami Fl.
For additional information Contact:
Lino @ Email: raverx999@hotmail.com
Frank @ Email: magiccitymustangs@yahoo.com
WE DO NOT SUPPORT Illegal Drag Races or Delinquent Behavior!