The 2011 Mustang GT Brake Performance Package
There's an interesting option in the 2011 Mustang GT order guide.


It' called the 2011 GT Brake Performance Package (55D) and if you want the ultimate in performance braking, like you'd have in the high end GT500, you need look no further than the new brake package.
Optional on the 2011 Mustang GT Only
The new high performance GT Brake performance package is only available on the Mustang GT.
I'm not sure why, but it's also only available with Mustang's equipped with the manual transmission.
What's included in the Brake Package
First off, you get the identical front and rear brakes you'd find on a 2011 Shelby GT500.
Mated to this combination, there's a unique brake tuning program that works with the Electronic Stability Control (ESC). New front corner modules make sure that the brake setup works right with this unique combination of suspension and brake equipment.
The system includes four wheel power discs with a four-channel anti-lock braking system. It also features electronic brake force distribution and of course, traction control.
The front brakes are Brembo 14 inch vented discs with four piston aluminum calipers, compared to the standard 13.2 inch 2 piston calipers in the GT.
At the rear you'll get 11.8 inch vented discs and two-piston calipers, compared to the single piston 11.8 inch cast iron ones in the standard 2011 Ford Mustang GT.
Special Wheels and Tires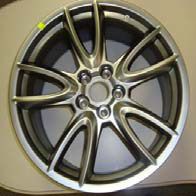 Further improving braking and personalizing the GT Brake performance package, you'll get some nice big 19 x 9" Premium Painted (Dark Stainless) aluminum wheels, fitted with Pony Wheel caps and road hugging P255/40R19 tires.
The coupe gets a pair of 255/40R19 Pirelli P-Zero Summer only tires, while the convertible will receive a set of P255/40ZR19 Goodyear F1 Supercar tires.
Improved braking Performance
The 2011 Shelby Mustang braking system is an improvement from the 2010 GT500 and already yields a 7% decrease in braking distance from 60-0 mph in the new Shelby.
However, since the Mustang GT never had these big brakes before, you can bet the difference between the standard GT braking distances and the numbers from the new package will be dramatically better.
It's going to be interesting to see some real world numbers as these cars start rolling off the showroom floors.


Return from GT Brake Performance Package to 2011 Mustang

Return to Ford Mustang home