Changing a visor on a 1966 Mustang Convertible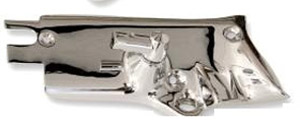 1966 mustang convertible visor bracket
Question Re: Changing a visor on a 1966 Mustang Convertible


How do you disconnect the visor power cord so as to be able to change the visor on a 1966 Mustang GT convertible
Answer:
Removing the old stock visor on a 1966 Ford Mustang convertible, fastback or coupe is a pretty simple operation.
As you see in the picture above, the OEM Mustang visor is attached to the front convertible roof bow with chrome screws.
You haven't added a picture of the sun visors on your convertible, but I can tell you a few things off the top.
First, the 1966 pony car was not offered with either a standard or optional lighted vanity mirror. A vanity mirror was an option at a whopping $1.95, but it was not a lighted mirror as what you would expect to see these days.
There have been a few manufacturers offering an aftermarket lighted vanity mirror on the visor, but even those seem to be difficult, if not impossible to find.
I'm assuming that when you are talking about disconnecting the power cord, this is the power that comes into your lighted aftermarket visor, from wiring that follows the stock "A" pillar to the mounting bracket.
If it's the same as later models, you'll need to unscrew the bracket and gently tug the wiring out of the front pillar. Usually, about an inch down, is where the connector is hiding.
The second problem you are likely to have, is finding a replacement visor. While virtually every major Mustang parts source sells replacement sun visors, new chrome arms and convertible mounting brackets, I don't know of any that sell aftermarket lighted visors.
So you may be faced with either going back to stock visors or doing a minor restoration on the ones you have now with a rattle can of vinyl dye.
Like any other project you do that uses any kind of paint, make sure that you have given it a good wipe down with a grease and silicone remover to ensure a good bond for the new vinyl dye.
Good Luck!
B.
Return from Changing a visor on a 1966 Mustang Convertible to Ford Mustang