Car Repair Ramps
Make do it yourself jobs easier
Car repair ramps and jack stands are indispensable tools for working on your car. Yet there I was yesterday, squeezing myself under my 1965 Mustang Coupe restoration project, replacing a rear brake cable.
Yep. Grunting, groaning and wishing I had a smaller head, I did manage to get one in and discover that not only was the other side broken, but I was missing all of the emergency brake equalizer hardware....
It would have been so much easier using the 2 car repair ramps sitting innocently in the corner of my shop. But no, I was so busy trying to get this job done quickly in the cold shop, that I ended up doing the opposite.
The Ramp Problem - No Problem
You see, the reason I didn't even consider grabbing them, was that as you've probably seen from the Mustang restoration sections , I'm not quite at the stage of firing up the engine. So I figured that getting the '65 pony car onto the ramps would have been a challenge.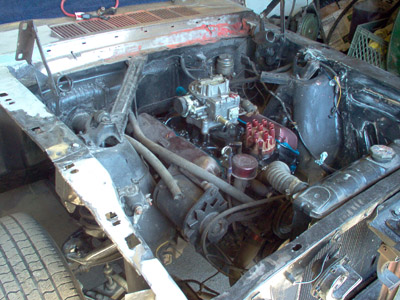 Um.. except for the fact that I Have a floor jack and a bottle jack that could have made that really easy to do.
So now, armed with all my new emergency brake parts and the other brake cable, I'm ready to get under my 1965 Mustang and finish off replacing every part of the brake system. And this time, with my car repair ramps. Oh yeah, don't forget the wheel chocks, to prevent it from rolling back!
I also spotted a couple of last things I need to clean up from the floor pan replacement before I seal the underside of the car.
Other reasons To Use Car Repair Ramps
Oil changes are much easier when you have room to put your catch basin and of course there's room to move your arms, making the oil filter removal much easier. (much nicer on the knuckles too).
Checking for leaks. Whether they are oil, fuel or exhaust leaks, getting the car up higher makes things a lot easier to find.
Replacing exhaust components. Save yourself a bunch of cash, replacing your muffler, oxygen sensor or other exhaust parts, like new free flowing cat-back systems.
Ramp Types
Assuming that you're not looking for commercial ramps, you'll find they come in two basic varieties.
Steel or high strength polymer for regular height vehicles, Or low incline ramps, for very low vehicles or lowered cars. (mostly in the high strength polymer)
Where You Can Get a Set of Your Own
Many auto parts stores carry ramps. If you prefer to shop online, here's a nice set of Car service and race car ramps
.

Whichever kind you choose, you'll thank yourself for having such great judgment the very first time you use them!

Return to Mustang Restoration

Return from Car Repair Ramps to Ford Mustang