The Boss 429 Mustang
The Boss 429 Mustang was Ford's factory racing super car. This engine was specially designed to successfully compete at NASCAR racing and in order to be allowed as a "production engine" in a Ford Mustang race car, it had to have been available in a production car.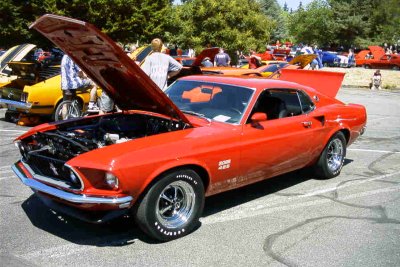 This meant that unlike a prototype race engine, the Boss 429 engine actually had to have been supplied in a minimum of 1,000 street vehicles in order to be "homologated", which would allow its use in a NASCAR sanctioned race car.
This tactic was not new to Ford, who years earlier tucked exotic engines into mundane passenger cars and even tow trucks to pass the specs for various forms of racing.
Ford commissioned Kar Kraft, who had also been involved in the GT40 production for Le Mans to modify stock 428 Cobrajet bodies and frames to accept the 2 inch wider engine.
Kar Kraft, pushed the front suspension outwards, added new and longer upper and lower suspension arms, a staggered rear shock setup and other modifications.


Race Car into Street Car
Meeting emission regulations for this race car in drag was to say the least, a challenge. The end result, was a a race bred street car, known as the "Shotgun" after its huge race car sized ports, which was civilized for the street, but also severely detuned in stock form to only 375 advertised horsepower.





















But I wonder just how many stayed that way? Reports are that 600-700 horsepower were possible with the proper intake, carb,cam and exhaust. And that was on pump gas!














Externally identified by it's outside decal declaring the car as a Boss 429 Mustang, a closer look revealed a 1" lowering of the car and a cut down front spoiler to maintain the look as well as ground clearance.
1970 Ford Mustang Boss 429













The 1970 Boss 429 edition, received the newly updated 1970 styling changes as well as a number of significant internal changes, to address concerns by the automotive press that it was not much of an improvement in performance from the 428 Cobra Jet models.


Check out the 1970 Ford Mustang Boss 429 section for full details and specifications including engine and power output, suspension details, pictures and more.
Vin Code and Vehicle Identification
Opening the drivers door revealed a rectangular plate above the standard data plate displaying KK 429 NASCAR followed by a serial number between 1201 and 2558.

Now if you could just find one sitting somewhere in a barn....



Return from Boss 429 Mustang to Classic Mustang

Return to Ford Mustang home