2012 Mustang Mayhem Performance Package
The 2012 Mustang Mayhem performance package, is the winning name from Ford's huge Facebook contest.



The new name for the optional V6 package, comes as part of a huge Facebook contest held by Ford to rename the Mustang performance package for the 2012 Mustang V6.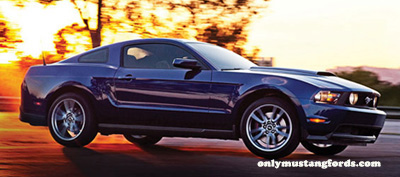 Over 1.4 million Ford Mustang enthusiasts cast their votes to rename the high performance option for the V6 Mustangs.
And the Winner Is....
The winning suggestion, came from a Mustang enthusiast in Charlotte, North Carolina, who for coming up with the name that received the most votes, will be enjoying a 3 year lease on a brand new 2012 Ford Mustang.
Naturally, it will be equipped with the new Mayhem performance package!
Mayhem Performance Package Specs
So what's in the Mayhem performance package for the new 300 horsepower V6 engine ?
Suspension Upgrades:
Some good stuff, actually. It includes a combination of upscale parts including pieces from the 2012 Ford Mustang GT, including a number of front end components, such as the GT's front and rear stabilizer bars, Mustang GT front struts, rear shocks and springs, plus the addition of a Shelby GT500 rear lower control arm.
Further improving handling, are a new strut tower brace, and a specially calibrated stability control, which includes a sport mode, similar to high end Mercedes cars.
Drivetrain Upgrades: Add in a 3.31:1 rear end for quicker acceleration, new 19 inch wheels and some high end Pirelli's for grip so you can plant all that 300 horsepower to the pavement!
Braking Upgrades:
For better stopping power, the new 2012 Mustang Mayhem performance package also includes new performance front and rear calipers, with high performance brake pads.
Get Yours
All the legalities have been finalized, so if you're in the market for a new 2012 Mustang with the 300 horsepower 3.7 liter V6, check out the new 2012 Mayhem performance package.

Return from 2012 Mustang Mayhem performance package to 2012 Mustang specs

Return to Ford Mustang home