The 2012 Mustang GT California Special
The 2012 Mustang GT California Special roars into Ford showrooms with some cool new features.



And if you like the feel of air in your hair, it's available as a convertible.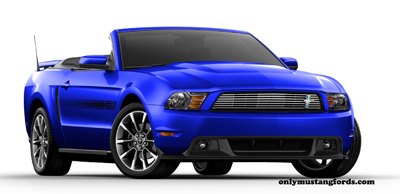 Exterior Styling
The 2012 California Special Mustang sports it's own special black billet grille, C/S stripe package and a new variation of the traditional red white and blue pony logo.
It also has its own unique front bumper/front fascia, with integrated fog lamps. Like the original California Special Mustangs, you'll find unique side scoops (smaller than the originals) and a rear pedestal type spoiler.
And of course, at the back, is the usual retro faux gas cap, emblazoned with "California Special".
Interior Styling
The interior is for the most part, the standard GT Interior, which is tight and clean. Just what you've come to expect from Ford's new found attention to detail, fit and finish over the last few years.
Engine and Drivetrain Performance
The 2012 California Special, like the standard Ford Mustang GT, is equipped with the new 5.0 liter Coyote engine, which pumps out a fantastic 412 horsepower, yet remains smooth and docile until you mash the gas pedal.
After that, the engine's smooth torque band, keeps gaining momentum right up to it's redline.
Fuel economy for this beast isn't too shabby either, with an EPA estimated 26 mpg on the highway, it won't beat a Prius at the pump, but it's about twice what you'd get with an original California Special.



Return from 2012 Mustang GT California Special to 2012 Mustang specs

Return to Ford Mustang