2012 Mustang Car Shows

October - December Mustang and Ford Events

Below are the fall 2012 Mustang car shows throughout North America.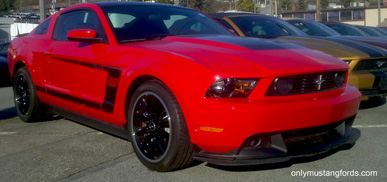 As you might expect, most of the remaining Mustang shows are in the southern states, so if you still need your fix of custom and classic pony cars, here's where to find them!

October 2012

October 5-6 - Green Country Classic Mustangs 33rd Annual Round Up
Jenks, Oklahoma
Contact John Hemby jnkhemby@cox.net 918.639.8152 or More Information

October 5-7th: Port Aransas Texas MustangFest 2012 - Mustang Island www.MustangFest.org

October 6: The 2nd Annual Grand Strand Mustang Stampede and Classic Ford Show
Myrtle Beach, SC

October 7 The 32nd Annual Mustang & Fords Fall Round-Up & Swap Meet
in arwick, RI


October 7 NMRA All Ford World Finals in Bowling Green, KY

October 7, The Chicago Vintage Mustang Club presents its
6th Annual Trackside Mustang & All Ford Car Show & Shine, at the Autobahn Country Club, 3795 Center Point Way, Joliet, IL.

October 7, The Central Arkansas Mustangers 31st Annual MCA regional show, HOT SPRINGS, Arkansas

October 12-13
Vicari Auction, Mississippi Coast Coliseum & Convention Center in Biloxi, Miss.

October 3-7, 2012 Fall Carlisle Swap Meet
Carlisle Fairgrounds, Carlisle, PA

October 21, 2012 The 39th Annual Fall Ty-Rods Automotive Swap Meet at Stafford Motor Speedway,Stafford Springs, CT

October 27 - It's the "World Famous" 23rd Annual Mustang & Classic Ford Show at Savnnah Mall in Savannah, Georgia.

October 27- Mustang Club of Tampa presents 31st Annual Mustang, Shelby and Ford Roundup, October 27, 2012 at Lazydays Event Center, east of Tampa, Florida

October 27 - Northside Mustang Car Club presents Papa's on the Lake 4th annual open car and truck show, October 27, 2012 at Papa's on the Lake in Montgomery, Texas.

October 26 - 28 Toronto Fall Classic Car Auction at the International
Centre, 6900 Airport Road, Mississauga ON.

October 28 - The Mustang Club of Central PA presents it's MCCP Covered Bridge Cruise, at Lancaster County, PA in Lancaster, Pennsylvania.

It's a cruise of between 70 and 90 miles crossing as many as fourteen covered bridges.


November 2012 Mustang Car Shows

November 3 - South Carolina Coastal (Low Country) Regional Mustang presents 18th Annual Mustang & All Ford Show at Carolina Ice Palace in North Charleston, South Carolina

November 4 The Mustang Club of Charlotte County presents Fun in the Sun at Fishermen's Village in Punta Gorda, Florida


November 4 - South Texas Mustang Club presents 20th Annual Mustang Roundup Car Show & Contest at Spikes Ford in Mission, Texas.

November 4 - 30th Annual Mustang & Ford Show at Palm Bay Ford in Palm Bay, Florida.

November 4, 2012 Even more in Texas. Check out the 20th Annual Ford Mustang Round Up at Spikes Ford in Mission, Texas.

November 4 - Don't miss the Fall Pony Roundup & Toys for Tots Show presented by the Northeast Georgia Mustang Club, in Lawrenceville, Georgia.

Nov 10, NMRA/NMCA Lonestar Shootout in Baytown, TX

November 4th, 2012 It's the Annual Fall Pony Roundup (Toys for Tots) Sponsored by the NEGA Mustang Club

November 16-18 - The 22nd Annual Fall Moultrie Automotive Swap Meet and Car Corral
Spence Field, Moultrie, GA

November 17 - The Mississippi Coast Mustang Club presents Fall Celebration Open, at Edgewater Mall in Biloxi, Mississippi


November 17 - It's the 6th Annual NCFMC All Ford Powered Car & Truck Show in Ocala, Florida

November 18 - The 21st Annual Ponies under the Palms Mustang and Ford Show, presented by the Mustang Club of West Central Florida, Lakewood Ranch, Florida.

More 2012 Mustang car shows for December arriving shortly!
Return from

Return from 2012 Mustang Car shows to the Ford Mustang home