2012 Mustang Cobra Jet Order Guide and Specifications
Hot off the presses, is the 2012 Mustang Cobra Jet Order Guide and Specifications.



Check out the link at the bottom of the page, for lots of Cobra Jet pictures and complete information the 2012 Ford Mustang Cobra Jet.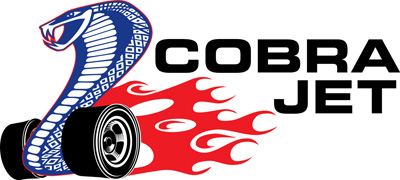 2012 Mustang Cobra Jet Order Guide and Specifications
Vehicle Description:
MSRP $91,990.00/ 1
Part Number: M-FR500-CJ
• Only 50 units produced for 2012Model Year
• Serialized for collectability with exclusive content onlyavailable on turn-key cars – branded wheels, center capsand badging exclusive to Cobra Jet!
• Off-road only and legal for NHRA Stock Eliminator andclasses in IHRA and NMRA.
• Unparalleled performance - won more class run-offs at the 2010 Indy U.S. Nationals than any other vehicle model and has delivered consistent performance en route to National and Divisional race wins!
• Current NHRA record holder SS/AA, SS/DA, AA/S,AA/SA, A/SA (as of 9-19-10)
2012 Cobra Jet Content:
New for 2012MY:
• Revised 5.4L supercharged engine – different specifications/rating than 2008/2010 model
• Aluminum engine block
• Double keyed crankshaft snout
• Manley H-beam rods
• Improved low-drag racing brakes – Strange Engineering
• Improved rear suspension w/revised rear upper control arm and lower control arm mounts
• Revised and optimized spring rates front and rear
• New design black anodized Cobra Jet wheels - Weld Racing
• Goodyear tires – all new DR compound – Cobra Jet branded
• Brake pedal 2-step switch (micro)
• Optional colors – Race Red, Grabber Blue, and Winner White – no additional charge
Drivetrain:
• 430hp 5.4L DOHC supercharged engine (aluminum block)
• 2.3L TVS Supercharger with twin 65mm dual bore throttle body
• 3-Speed C4 Auto Race Transmission
• 9" rear axle w/4.29:1 Axle Ratio – Strange Engineering
Chassis:
• NHRA Stock Eliminator legal interior
• 8.50et NHRA certified roll cage
• Estimated weight of 3,200 lbs
• Cobra Jet trim and appearance package
• Drag race wheel/tire combination (Rear Tire 30.0 x 9.0)
• Cobra Jet spring/adjustable damper tuning
• Light-weight, low-drag brakes (manual)
Colors: Race Red, Grabber Blue, Winner White
2012 Mustang Cobra Jet Order Guide Optional Graphics Package:
MSRP $1,995.00
Includes: Powered-By-Ford fender emblems, Sweeping Snake side graphics, 5.4 Cobra Jet hood graphics, Ford Racing windshield header decal, Ford oval front fascia decals, Ford oval license plate decal, FR500CJ decklid decal.
Optional graphics may be unique to Cobra Jet body color.
Optional 4.0L Supercharger upgrade
MSRP $9,995.00
• Step up to the most powerful combination in NHRA Super Stock. The 500hp 4.0L supercharged 2010 Cobra Jet has delivered mid-8 et's, Class champions, divisional race winners and national records all in its first year on track!
• Ford Racing offers their exclusive upgrade kit to the base 2012 Cobra Jet for the racer looking to perform at the highest levels of NHRA Super Stock Competition.
• Kit includes supercharger, billet throttle-body, complete inlet system with 140mm billet mass air housing, installation instructions, and exclusive Ford Racing race-ready calibration.
• Final horsepower rating TBD, rating will differ from 500hp 2010 model.
• 4.0L equipped Cobra Jets will also be upgraded to an SFI approved 2-speed automatic transmission and the appropriate driveshaft and gear ratio.
Notes:
1/ All Pricing is F.O.B. Michigan. Pick-up/Shipping costs are the responsibility of the Dealer/End Purchaser
Specifications and Pricing are Subject to Change. Any changes will be reviewed with you to reconfirm any orders

Return from 2012 Mustang Cobra Jet Order Guide to 2010 Mustang CobraJet


Return to 2012 Mustang Boss 302