2011 Mustang V6 Fuel Economy Challenge
Proving 2011 Mustang V6 fuel economy. The new Mustang is the most fuel efficient car in its segment, with an EPA rated 31 mpg on the higway. Impressive in any V6 equipped car, but very surprising, considering the new 2011 Ford Mustang V6 produces 305 horsepower.

To put the 2011 Ford Mustang V6 fuel economy numbers to the test, Ford is challenging Mustang fans, to guess how many laps the new Mustang v6 car can do on the 1/2 mile oval at NASCAR's Bristol Motor Speedway (Bristol Tennessee) on a single tank of gas.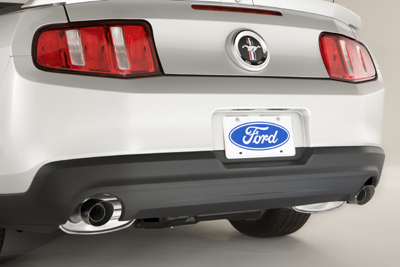 Your Chance to Win a New Mustang V6
Here's a hint. In order to complete 1,000 laps at Bristol, the Mustang needs to do a bit better than it's EPA suggested fuel economy. Going by the book, the pony car should be able to make 496 miles on it's 16 gallon tank.
Guess correctly,the number of complete laps that the 2011 Ford Mustang V-6 completes at Bristol Motor Speedway on June 23 and you'll be placed in the random draw, for a chance to win your own new 2011 Ford Mustang V6, valued at $30,000.
What Were The Results Of The V6 Fuel Economy Challenge ?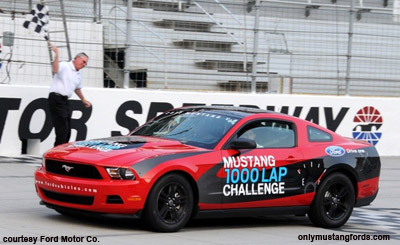 Well, the challenge has ended and get this.... the new and powerful, 2011 Ford Mustang V6 ran for an amazing total of 776.5 miles on one tank of gas.
To accomplish this feat, your favorite V6 powered pony car averaged a spectacular 48.5 mpg! Take that Camaro!


And the Winner Is...
Believe it or not, a total of 51,000 entries were sent in by participants in the challenge. Pretty great odds, if you entered (and shame on you if you live in the states and didn't enter).
And out of that total, 22 entrants correctly guessed the number of laps for the win. And those winners were entered into a draw for the pleasure of being handed the keys to their own little 2011 Mustang V6 fuel economy test machine.
That sure as heck beats the odds on winning the Powerball lottery!


Return from the 2011 Mustang v6 Fuel Economy Challenge to 2011 Mustang

Return to Mustang News

Return to Ford Mustang home