The 2010 Roush Mustang 427R
The 2010 Roush Mustang 427R is a refinement of the previous years Roush Mustangs.


The look, is not as edgy as some I've seen in the past, but it has an evolutionary feel, like you'd see a on a new Porsche. The same, yet better.


2010 Roush 427R Exterior Changes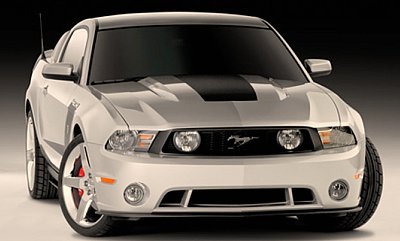 The changes are subtle. The look and feel is Grand Touring, instead of Boy Racer. The only thing that seems odd is the angular retro Boss 302 look body stripe. Everything else suggests flowing slightly rounded shapes except this stripe
The lower chin spoiler looks just right and the rear diffuser gives a euro look that's easy on the eyes.
Interior Upgrades
Ford's improvements to the standard Mustang Gt interior has gone a long way to addressing past complaints.
Unless you opt for the gauge pods and white faced gauges, short shifter and black nob, or the not cheap, $1,700 Alcantara seat option, the sole improvements are an aluminum shift nob and embroidered floor mats.
Engine Changes
Although the engine has not had any improvement in the horsepower department, but it's famous Roushcharger supercharger is more than up to the task, with 435 horsepower and 400 lbs of torque.
Changes to the cold air system and other improvements have, however produced changes in emissions and gas mileage.
Suspension and Steering
Roush Mustangs are well known for their handling abilities and the 2010 Roush 427R won't disappoint you. With it's suspension upgrades and revalved shocks and struts, the ride is firm, but not harsh.
With The powerful engine and the slick suspension, you may be tempted to go a bit faster. If you do, one option should probably be on your list.
And that's the big brake kit, with 4 piston calipers and 14" slotted rotors for better cooling, its a noticeable improvement over the reasonably good Mustang GT package.
Roush 427R Pricing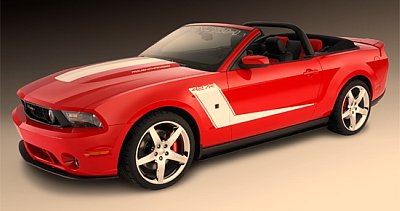 Roush has managed to somehow improve mileage this year as well as lowering emissions and has managed to avoid the dreaded gas guzzler tax.
So, even though the 2010 Mustang Gt Premium has had a rise of about $3,000 from 2009, the cost of the 2010 Roush Mustang 427R package is still only just over $15,000 more than a GT.
Not cheap, but when you consider the cost of just a supercharger kit, it really doesn't seem that bad. And you know you're not going to see a clone of yourself on every second block.

Return from 2010 Roush Mustang 427R to Roush Mustangs

Return to 2010 Mustang

Return to Ford Mustang home