2004 Mustang GT
OEM floor mats
by Stephen
(Canada)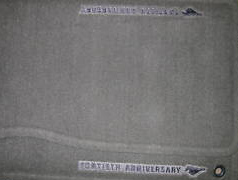 2004 Ford Mustang OEM floor Mat
Question:


Got a 2004 Mustang GT with a Mach 1 rim and sound system package on/in it, but no floor mats.
The car has an Orange exterior with a black interior.
Any idea on what the OEM floor mats look like?
Is there a GT logo or a 40th edition logo?
Answer:
Hi Stephen. As you see from the picture above, the
2004 Mustang GT OEM Floor mats have an embroidered 40th anniversary stitching on both sides
of the original equipment floor mat and a Mustang logo at the end. Other than that, there is no major differences between them and other 199-2004 mats.
I don't have the color code for your interior, but you may want to check with one or more of your local Ford Dealers, in the parts department to see if they have any sitting in the back shelves.
To get you in the ball park,
check out this Ford part number
: 4R3Z-6313300-AAA. It may also be listed as 4R3Z6313300AAA or 4R3Z*6313300*AAA. I don't know if the part number is color specific, or if so, what letter changes to make them black, but that's where your Ford dealer comes in.
You may be able to find one from perogie enterprises, or on ebay. I haven't seen any aftermarket reproduction floor mats for the 40th Anniversary Mustang, but there may be some out there somewhere.
If that fails, and all can find is the wrong color
, you may be able to get carpet paint, or vinyl dye to get it looking right, but I'd test it out on a used, not so valuable mat, to see if it is going to work.
I can't speculate on exactly what you'll pay for the mats. But I've seen them here and there, from about $100 to $180 bucks for a pair.
Good Luck!
Return from 2004 Mustang OEM Floor mats to Ford Mustang home
Return to 2004 Ford Mustang