2003 Mustang Mach 1
The 2003 Mustang Mach 1 is a great combination of retro styling inside and out, with some major improvements on the original.


Like the original, the 2003 Ford Mustang Mach 1 has a number of positive things going for it, making it a viable high performance alternative, to the stock 03 Mustang GT and the wicked but expensive SVT Cobra.
Mach l Exterior Styling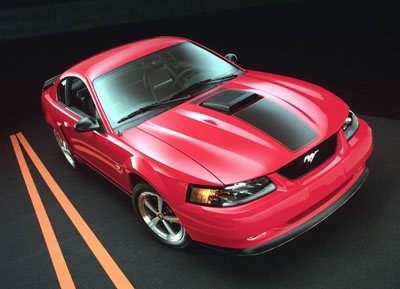 The modern 2003 Mustang Mach 1 takes styling cues from the original 1969 Ford Mustang Mach 1 in several areas. The most obvious, being the distinctive Shaker hood scoop, which Ford says, are created using the original tooling from the 60's !
From the looks of it, the insides may be the same, but the shape of the top of the scoop is certainly different than the 1969 Mustang.
Elsewhere, you'll see the distinctive black striping on the hood bulge, on the lower part of the doors, requisite, Mustang side scoop, blacked out "B" pillar and black rear spoiler and blacked out front chin spoiler.
A new take on the old Magnum wheels add a distinctive look to the overall effect.
Color choices hearken back to the 60's as well, featuring some good solid colors, including blue, yellow, black and red, as well as a more modern looking silver gray metallic.
Interior Styling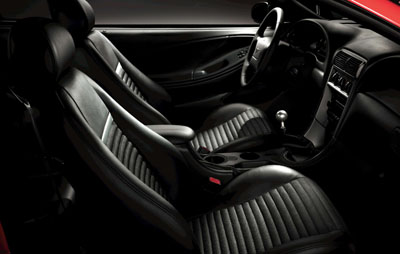 Continuing on with the exterior retro styling cues, the interior of the 2003 Mach 1 sports a number of cool little additions. The Mustang's bucket seats have a modern version of the original comfort weave material.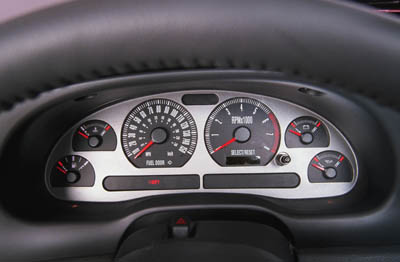 The rest of the interior is pretty standard Mustang Gt, but include a slick looking gauge and speedometer cluster.
Mach 1 Engine and Drivetrain Specs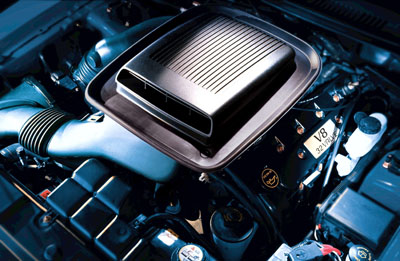 The engine is the same 4.6 liter V8, used in the 390 horsepower SVT Cobra, minus the supercharger. To bump up power from the base GT levels, the ram air system pumps cooled air through a twin bore 57 mm throttle body into modified heads.
The result is strong, 305 horsepower engine, putting out 320 pounds of torque. Yet this solid performance still allows this powerful little Ford Mustang to achieve EPA mileage figures of 17 mpg city and 25 mpg highway.
Exhaust exits through a nice sounding, stainless steel high flow exhaust system.
Power flows through either the standard Mustang 5 speed transmission or via a beefed up automatic into a 3.55:1 rear end for snappy acceleration.
Suspension and Steering Changes
To make this Pony Car handle the way you'd expect and look mean, Ford added higher rate springs, which increased stiffness and lowered the car slightly.
Sway bars remained the same as those on the GT, but added Tokiko shocks and struts for more reliable manners on the road.
When you want solid stopping power, Brembo becomes a commonly uttered term. And this Mustang, like it's SVT Cobra brother receive new high performance Brembo Rotors and Calipers.
Performance Specs
This car is quick! 0-60 mph happens in just 5.3 seconds, and the 2003 Mustang Mach 1 reaches the quarter mile in just 13.5 seconds at approximately 107 mph.

Return from 2003 Mustang Mach 1 to 2003 Mustang

Return to Fourth Generation Mustang

return to Ford Mustang home