The 2000 Mustang
The 2000 Mustang was as expected, little changed from the major revamp in styling from the previous year.

Pony car enthusiasts, however lapped up the new car in big bites and
sales jumped up by 82,000 cars
, a total that was in fact larger than the car's total sales not many years before.
Much of this new found popularity was as a result of the
substantial increase in horsepower to the base V6 motor
.
At 190 horse power, it was strong enough to be considered a serious alternative to a V8 and not a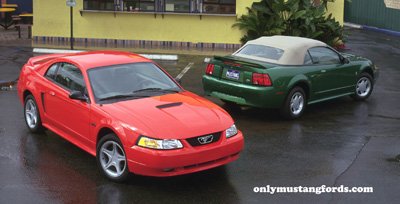 sheep in wolf's clothing.

That, along with gearing well suited to the engine and good low end torque, the engine in fact felt even stronger than the specifications might indicate.
Exterior Changes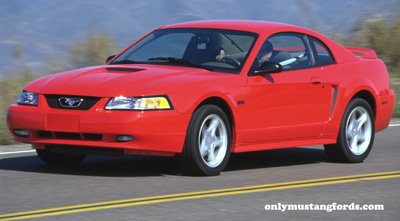 Changes in exterior styling for the base model of the 2000 Ford Mustang were nonexistent. The 35th anniversary badges were of course, missing. The only new addition to the standard package was the addition of rounded exhaust cut outs for the dual exhaust GT cars.
The Cobra was absent from the line up, but Ford kept up the excitement by resurrecting the famous SVT Mustang Cobra R which this time around didn't require the owner to have an NHRA (National Hot Rod Association) or SCCA (Sports Car Club of America) license.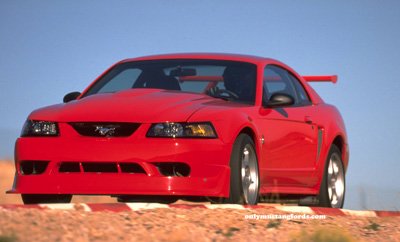 Like its predecessor, a limited production, this time of 300 units made their way to their lucky owners. At over $54,000 it was more than twice as expensive as a standard GT
It also had a functional rear wing, cool looking side exhaust cut outs and a very deep front air dam which looked like it just came off a race car.
2000 Mustang Interior Changes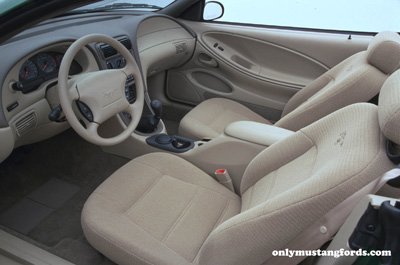 Ford continued the modern retro look for the Mustang's interior, unchanged from the previous year.
The one major interior change,albeit for only 300 cars was the reworking of the stock interior to add race ready Recaro buckets in the transformation to a SVT Cobra R.
Interior choices remained at five.
Engine and Power Train
The base 3.8 liter V6 engine remained at a respectable 190 horse power.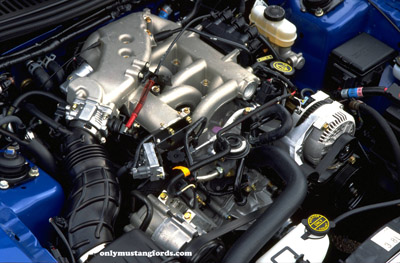 For the 2000 Mustang GT, it's iron block 4.6 liter engine cranked out a very healthy 260 horsepower, which remained the same as the 1999 update which came with a 35 horsepower gain from the previous year's model.
The SVT Cobra engine also stayed at a very healthy 320 horse power, while the Cobra R only 5.4 liter engine produced a strong 385 horsepower and a stump pulling 385 pounds of torque.
Keeps you wondering.. what are they going to do next year?

Return from 2000 Mustang to Fourth Generation Mustang

Return to Ford Mustang Home