The 1999 Mustang
The 1999 Mustang wasn't exactly a design change from a fresh piece of paper, but it none the less helped to update the aging look.

New crisper looking headlights and a restyled side profile looked forward, yet at the same time
brought back some elements of classic mustang cars of the 60's and 70's
.
And as seems to be the case for much of the history of the Ford Mustang's production, the first year of a face lift doesn't always generate a big jump in sales.
And if not, it seems to build up for the second year of the restyle and in this case, help celebrate
the iconic pony car's 35th Anniversary.
1999 Mustang Exterior Changes
Styling changes for the 1999 Ford Mustang included a more angular take on the original pony car's characteristic scoop behind the doors. It also stretches out and upward towards the top of the belt line and flows into a crisp point just forward of the front doors.
















The front bumper was restyled and the famous pony and corral return to the grille area.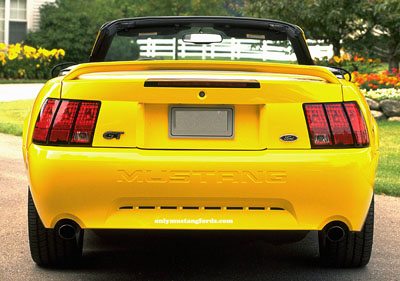 At the rear, a new take on the classic 3 bar tail lights is added and the entire rear bumper fascia is changed and slightly more angular.
Ford also introduced a special 35th anniversary commemorative edition, which featured a special hood scoop and black out stripe running from the front of the hood back into the opening.























A revised rear deck lid scoop was added to the back.
SVT Cobra
While not looking tremendously different from the outside, Ford's 1999 Cobra was the clear cut winner in the pony car performance category.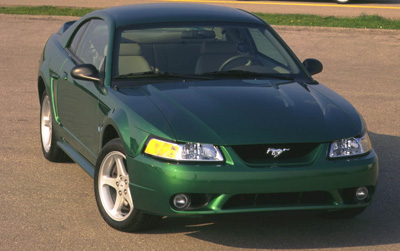 With it's all aluminum DOHC (dual overhead cam) 4.6 liter V8 coupled with chassis refinements and big sticky tires, the most expensive option, was hands down, the bargain of the year!
But that's just the beginning! Here's the full story on the 1999 Mustang Cobra
Interior Changes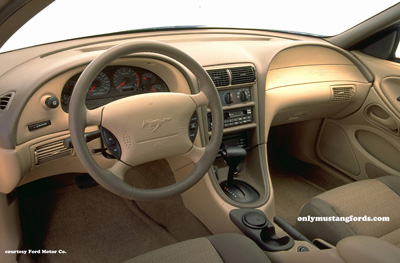 The 99 Mustang also received a new interior treatment to complement the exterior revisions...dual cupholders.
In many ways, that really wasn't a bad thing, as both the standard and deluxe GT interior was clean and modern looking.
It seems that the money they saved went right into the engine bay, which held a few nice new surprises.
Engine and Power Train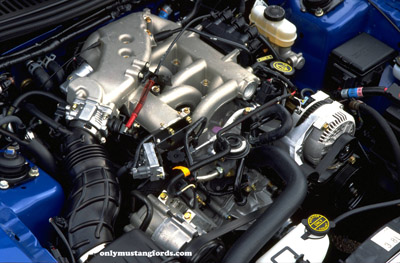 Ford seemed to be on a horsepower quest and even the base 3.8 liter V6 engine saw big improvements, jumping to 190 horse power from only 150 hp the year before.
The 4.6 liter iron block V8 jumped from 225 to 260 horsepower and the aluminum DOHC 4.6 liter V8 in the 1999 Ford Cobra SVT, gained an additional 15 hp, sending it up to 320 horse power.
Ford also increased the rear track by 1.4 inches to further improve handling.



Return from 1999 Mustang to Fourth Generation Mustang

Return to Ford Mustang Home